#14 Tigers Clinch NCAC Divisional Title: Starr Homers in Each Game
April 15, 2012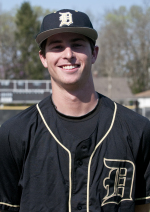 Greencastle, Ind. - The 14th-ranked Tigers improved to 27-5 overall and 12-2 in the North Coast Athletic Conference following a doubleheader sweep of Wabash at Walker Field.

DePauw blanked the Little Giants in the first game, 6-0, and took a 10-5 victory in the nightcap. With the sweep the Tigers clinched the NCAC West Division title and a spot in the conference tournament. Wabash dropped to 13-19 overall and 4-6 in the conference.

In the opening game, DePauw reached the board first as Zach Starr (left), who has missed the last 17 games due to injury, hit the second pitch he saw deep over the fence in left center. The Tigers made it 2-0 in the fourth as Jason Cohen singled and scored on Alex Wright's double down the left field line.

DePauw secured the win in the sixth as Rob McPike singled and moved to second on Wright's base hit. Robbie Stein walked to load the bases and Brendon Pashia lifted a sacrifice fly to center scoring McPike. Sam Swafford then blasted a three-run homer to left making it 6-0.

Totaling eight hits, the Tigers were paced by Starr, Wright and Swafford with two each. Three different Little Giants collected one hit apiece.


Hobs Donovan (right) improved to 2-0 with the three-hit shutout and recorded 12 strikeouts. Andrew Swart dropped to 3-4 with the loss.

In game two, the Tigers scored in each of the first five innings as they got on the board in the first with Starr hitting another leadoff homer. Zach Galyean then tripled and scored on Cohen's ground out.

The Tigers made it 3-0 in the second as Pashia singled and Alex Berlyn walked before Swafford advanced them with a sacrifice bunt and Pat Lyons drove home Pashia with a sacrifice fly to right.

Wabash scored its first run of the day in the third as Robby Hechinger hit a solo homer to left.

DePauw added three more in the third as McPike singled and moved to second when Cohen reached on an error. Wright then delivered a three-run homer to left to make it 6-1.

Montana Timmons homered to right center in the fourth, but DePauw countered in the bottom half of the inning as Lyons, Starr and Galyean singled and McPike plated Lyons with a sacrifice fly.

Wabash scored a pair in the fifth with Tyler Owensby drawing a walk and Hechinger singling before John Pennington drove in both with a double to trim the Tigers' lead to 7-4.

Berlyn tripled with two outs in the fifth and scored when Swafford reached on an error.

DePauw wrapped up its scoring in the seventh when Pashia led off with a single and moved to second when Berlyn reached on an error of his sacrifice bunt. Swafford then reached on an infield throwing error which allowed Pashia to score before Galyean drove in Berlyn with a sacrifice fly.

Wabash's final score came in the eighth when Pennington led off with a single. Timmons singled and Andrew Rodgers walked before Tyler Hampton scored Pennington with a sacrifice fly.

DePauw totaled 13 hits led by Pashia's three and two each from Starr, Galyean, McPike and Wright. McPike's bunt single in the sixth was the 200th of his DePauw career, a feat which only two other Tigers have accomplished.

Hechinger had three of Wabash's eight hits, while Pennington and Timmons each had two.

Elliott Ross improved to 6-1 with the win, while J.T. Miller dropped to 4-3.

The Tigers return to action on Saturday, April 21, when they host Case Western Reserve in a Noon doubleheader.

Back