#12 DePauw Splits NCAC Twinbill at Denison
April 15, 2012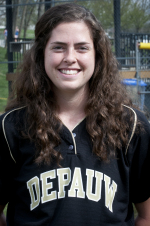 Granville, Ohio - In a pair of games which weren't determined until the final inning, DePauw splits its North Coast Athletic Conference doubleheader at Denison.

The 12th-ranked Tigers dropped the first game, 1-0 and took the nightcap by a 4-3 score in 10 innings. DePauw is now 20-8 overall and 3-3 in the NCAC, while Denison is 16-12 overall and also 3-3 in conference play.

In the opening game, the Tigers put runners into scoring position in five different innings, but couldn't advance them any further than second base.

Denison's game-winning run came in the bottom of the seventh as Jess Robertson and Heather Larsen each were hit by pitches to lead off the inning. Emily Lipsitz loaded the bases with a single and Becca Dyer drove in Robertson with a base hit.

Amy Hallett (pictured) had two of DePauw's six hits, while four different Big Red players collected one hit each.

Emily Dieckmann dropped to 9-4 with the loss, while Dyer improved to 2-0 with the win.

In the second game, DePauw took a 1-0 lead in the second as Jen Kosinski led off with a single and moved to second on Haley Buchanan's sacrifice bunt. Kate Hendrickson singled to load the bases and Dieckmann drove in Kosinski with a single.

Hallett led off the sixth with a double, moved to third on Holly Paris' sacrifice bunt and scored on Kosinski's sacrifice bunt.

Denison evened the score at 2-2 in the bottom of the sixth as Hannah Price, Julie Rooney and Rachel Laughlin each singled to load the bases as Meghan Edwards drove in a pair with a single.

Hallett's leadoff homer in the eighth gave DePauw a 3-2 lead, but Denison knotted the game at 3-3 in the bottom of the eighth as Edwards and Robinson singled with two outs before Larsen drove in Edwards with a base hit.

The teams played a scoreless ninth before the tiebreaker rule was invoked for the 10th. Cymone Allen was placed on second and moved to third on Hallett's sacrifice bunt. Kosinski then drove in Allen with the game-winning single.

Hallett led the Tigers with a 4-for-4 performance and was 6-for-7 in the twinbill, while Kosinsk, Buchanan and Hendrickson each had two of DePauw's 13 hits. Denison totaled 10 hits led by two each from Price, Rooney and Edwards.

Kahla Nolan improved to 6-1 with the win in relief, while Dyer dropped to 2-1.

DePauw hosts Wittenberg on Wednesday in a 3:30 p.m. doubleheader.



Back