New Bookstore, With Starbucks and Community Meeting Space, Planned for Courthouse Square
April 16, 2012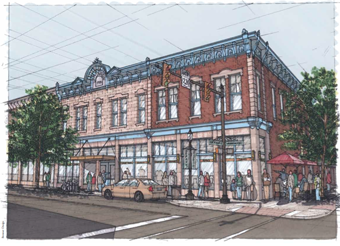 A new, expanded bookstore with a full-service Starbucks café is coming to Greencastle through a partnership between DePauw University and city officials. Planned to open by this fall, the bookstore will be located on the courthouse square at the southeast corner of Washington and Indiana Streets. It will include programmable space which can be used by the campus and community, and a technology kiosk.
Designed to foster a college town atmosphere on the square and made possible after many months of planning, the bookstore is a result of the Stellar Communties grant which the City of Greencastle received last year. DePauw worked with city officials to create Greencastle's winning proposal, which provides approximately $19 million in state funds to revitalize the downtown area, link the city more closely with the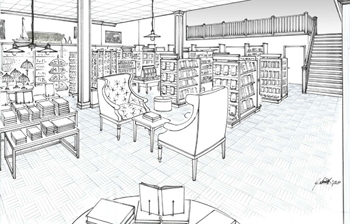 campus, and improve the quality of life through new initiatives in health, the arts, and technology.
The new bookstore is designed to increase foot traffic in downtown Greencastle and create a larger customer base for other courthouse square businesses, restaurants and cafés.
"At its core, the Stellar Communities initiative is about revitalizing our square, making it a center of connection and economic activity and anchoring a college town atmosphere," says Mayor Sue Murray. "To have a major retail anchor of this size as a magnet to bring business, and more foot traffic, to the square is a major first step in that process."
The 11,000squarefoot structure -- to be developed by Kite Realty Group -- will be privately owned with retai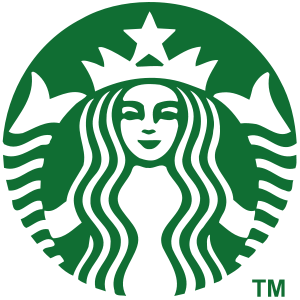 l operations by Follett Higher Education Group, the nation's largest operator of college campus and community stores. Funding has been made possible by a development loan from the Indiana Housing and Community Development Authority facilitated by the Greencastle/Putnam County Development Center, along with a significant investment from DePauw University. The total investment in downtown Greencastle from this initial project is expected to exceed $2.5 million.
"We have a state, a city, and a university investing significant resources to help our community reach its potential, and we're about to start seeing the fruits of our labor," adds DePauw President Brian W. Casey. "This is a substantial investment by DePauw in the downtown, and I could not be more optimistic about the future of Greencastle."
The main floor of the new bookstore will include retail space dedicated to course material and textbooks for DePauw students, as well as trade books and periodicals and DePauw University merchandise. Additional space will be dedicated to a technology center and Ivy Tech Community College merchandise, while the mezzanine-level Starbucks café will seat approximately 75 individuals.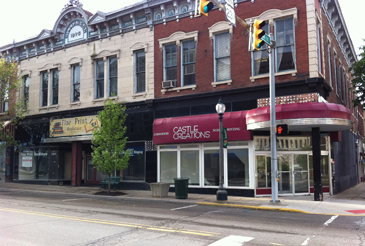 The top floor of the structure will include a community meeting room and new loft-style apartments.
"This new facility will be an ideal spot for Greencastle residents and DePauw students alike," states Indiana Lt. Governor Becky Skillman, who oversees the Stellar Communities program. "That's what we created Stellar Communities to do -- bring people together and improve cities."
According to Tammy Amor, executive director of the Greencastle Chamber of Commerce, "Our square is an incredible asset. It's the type of authentic, historic business district that developers are recreating in suburbs across the country. That's exactly what we're doing, except we have the real thing and Stellar has given us the shot in the arm we need to really make it shine."
On-site construction is scheduled to begin in the coming weeks, with a grand opening of the bookstore scheduled for the fall of 2012.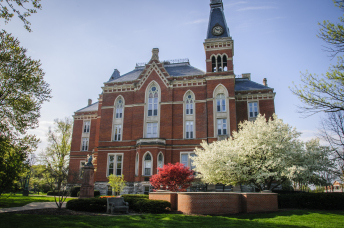 "From the initial planning for this effort, the University's goals have been to provide an improved bookstore experience for students and faculty, while also ensuring a financially sustainable structure," notes Brad Kelsheimer, vice president for finance and administration at DePauw. "These goals remain paramount in our minds as we begin implementation."
Future plans for the site of the current DePauw bookstore, which is located in the lower level of the Memorial Student Union Building, will be announced at a later date.
Back