Amy Youngblood Schuermann '90 is Featured Designer at Upcoming Ohio Event
April 8, 2012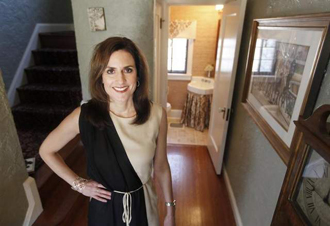 Amy Schuermann, a 1990 graduate of DePauw University, "will be the featured designer of an 'urban oasis' set for Art Design Consultant's ongoing Design Star event starting June 21," reports the Cincinnati Enquirer.
The piece, which includes the photo of Schuermann that accompanies this article, offers a look at options for redesigning a powder room finished redoing her powder room last fall as well as her "tips and trends." Brent Coleman writes, "Overall, Schuermann said, homeowners can get the 'most bang for your buck' by remodeling powder rooms, because they are small, yet seen a lot by guests.
Access the story at the

newspaper's website.
A communication major at DePauw, Amy Youngblood Schuermann went on to earn a degree in interior design at College of Mount St. Joseph in Cincinnati. The owner of Amy Schuermann Interiors, a full service interior design firm specializing in residential and smaller commercial design, she was also the subject of this previous feature.
Back