Ian Rolland '55 Receives 2012 Sachem Award, Indiana's Highest Honor
April 17, 2012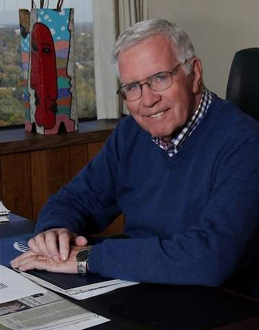 Ian M. Rolland, the former chairman and CEO of Lincoln National Corp. and 1955 graduate of DePauw University, "has been honored by Gov. Mitch Daniels with the 2012 Sachem Award, the state's highest honor," reports the Fort Wayne News-Sentinel today. "The Sachem is given annually to recognize a lifetime of excellence and moral virtue that has brought credit and honor to Indiana. Previous recipients include college basketball coaching legend John Wooden, the Reverend Theodore M. Hesburgh, C.S.C., president emeritus of the University of Notre Dame, and philanthropist Bill Cook."
Governor Daniels calls Rolland "one of the great citizens in recent Indiana history: a superb businessman who created jobs by the thousands, a leader for civil rights and a host of civic causes, a champion of the environment and conservation, and always an exemplar of the highest standards of personal integrity."
The report notes, "Rolland sits on the board of more than a dozen non-profits and charities ... and is past board chair for DePauw University."
Rolland will be honored at a Statehouse ceremony on April 25 at 11 a.m.
Read more at the newspaper's website.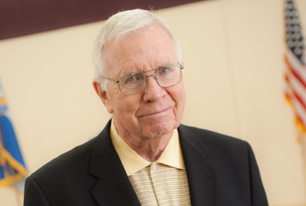 Last year, Ian Rolland was inducted into the Indiana Conservation Hall of Fame and was presented with the Council for Advancement and Support of Education (CASE) 2011 Distinguished Friend of Education Award.
A gift from Rolland and his wife created the Ian and Mimi Rolland Welcome and Activities Center, which was dedicated on April 21, 2006. It serves as a trailhead building for groups entering the DePauw Nature Park, where they can receive orientation and plan their activities.
A 1998 video tribute to Rolland is embedded below.
Back