Gift by Vera May Kierstead-Farber '36 Renovates Thompson Recital Hall
April 21, 2012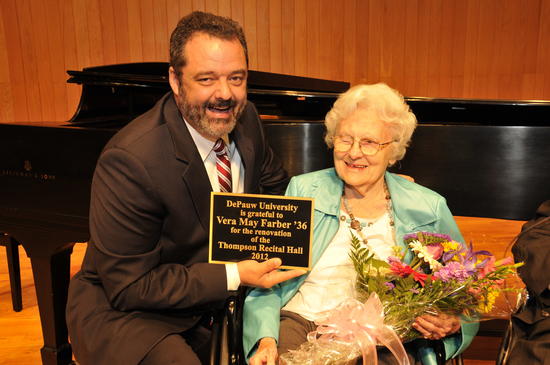 "At age 99, Vera May Kierstead-Farber, a longtime Greencastle resident and 1936 graduate of DePauw University, has taken to giving gifts on her birthday," notes a story published in Greencastle's Banner-Graphic. The article details an April 4 event at which DePauw recognized Kierstead-Farber's gift of $100,000, which made possible renovations to Thompson Recital Hall, a performance space located within DePauw's Green Center for the Performing Arts.
Upgrades to the performance space "included new drywall on the back wall of the hall, removing the carpet on the wall, and improving acoustics; all new paint; new carpet; brand new seating; and six large banners placed in the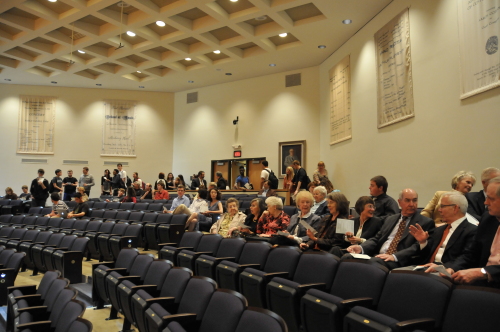 hall showing past programs from concerts presented during the rich history of the DePauw School of Music, the sixth-oldest in the United States, founded in 1884," reports the newspaper.
"This was the first time that Thompson Recital Hall has undergone serious upgrades since it opened in 1976," says Mark McCoy, dean of the DePauw School of Music (seen in top photo with Kierstead-Farber). "It is a wonderful space but was acoustically-challenged and not a room that was inviting to audiences. It's a very well-used venue and important to our student-musicians, as well as visiting artists, and we will be forever grateful to Vera May for her generosity and lifelong support for DePauw."
The article adds, "Kierstead-Farber, whose birthday is in March, was presented with a belated birthday cake at an event to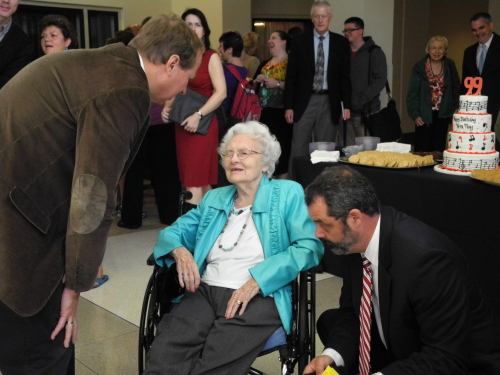 celebrate the renovation of Thompson Recital Hall. She was joined by her husband, Bob Farber, vice president emeritus and professor emeritus of education at DePauw and 1935 graduate of the University, as well as family and friends, DePauw President Brian Casey, and School of Music students, faculty and staff."
Read more at the Banner-Graphic's website (a subscription may be required to access the story). Also available is a photo gallery.
Visit the DePauw University School of Music online by clicking here.
Back