Micah Ling '03 to Present Indianapolis-Area Reading Wednesday Evening
April 23, 2012
Micah Ling, author and 2003 graduate of DePauw University, will present a reading at the Franklin branch of the Johnson County, Indiana library this Wednesday, April 25, notes the Indianapolis Star. "Ling was the recipient of the Indiana Emerging Author Award for 2011," reports the newspaper. "She's had two poetry collections published, and her third book, Settlement, will be out this spring."
Access the item at IndyStar.com.
Ling majored in English (writing) at DePauw and earned an M.A. in 20th Century American Literature and the M.F.A. in poetry at Indiana University.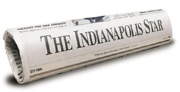 She has taught at DePauw, Indiana University, Butler University and Franklin College.
Learn more in this previous article.
Back