Relay For Life Raises $129K for Cancer Fight
April 22, 2012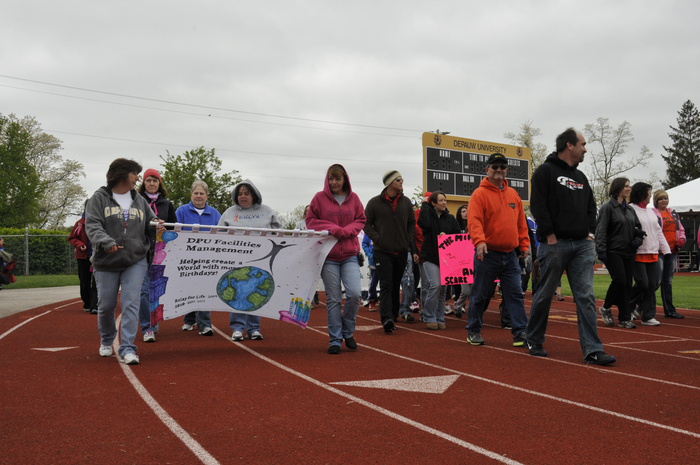 The seventeenth annual fundraiser for the American Cancer Society, 2012 Putnam County Relay For Life, raised more than $129,300 when the 24-hour-long event concluded at noon today, and more funds are expected to come in. That eclipses last year's end-of-event total by more than three thousand dollars.
Nine hundred twenty-six individuals and 79 teams took part in the 2012 Relay, which brought together students, faculty and staff from DePauw University with people from the Putnam County community in an event which took place at DePauw's Blackstock Stadium.
"While each of us has a unique reason for being here, we all have something very much in common: we want to make a difference in the fight against cancer," Relay For Life co-chair and DePauw senior Katherine Butler said at noon Saturday, as the event kicked off.
"Over the next 24 hours, we will go on a life-affirming journey together," co-chair and DePauw senior Danielle Boyd told the crowd, telling them that the continuing laps around the track at the stadium symbolize "a disease that never sleeps."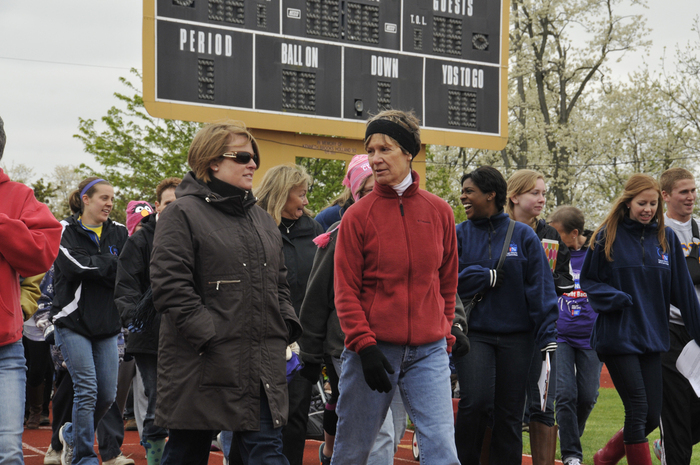 "This is amazing," noted Greencastle Mayor Sue Murray at the opening ceremony. "When people talk about what brings campus and community together, the first thing that comes to people's mind is Relay." She added, "For all the years that I've been coming to Relay it's always interesting to find out what this day will bring, but what it always does bring is a community filled with people who are for one reason -- to celebrate those who have fought valiantly against cancer and are with us today, to remember those whose fight was not successful, and to fight hard to raise money so that, hopefully, one day we won't need events like Relay because cancer will be one of those beaten things."
Noting that her family has been touched by cancer, DePauw's new director of athletics, Stevie Baker-Watson, stated, "Thank you for all of those of you who didn't know you were helping us."
Learn more about the event and contribute online here.
First hosted by DePauw in 1996, Putnam County Relay For Life has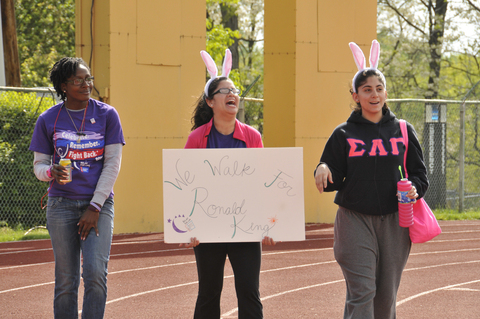 won several awards for being among the best of its kind among American colleges and universities. The first fundraiser raised nearly $15,000. The total grew to approximately $20,000 by 1998, $30,000 by 1999, and $42,000 in 2000. Then, 2001 brought in $80,000; followed by $127,000 in 2002; more than $162,000 in 2003; 2004's $208,735; and a 2005 total of more than $230,000. The 2006 and 2007 Relays each raised approximately $220,000 for the cancer fight. The recession kept donations to about $160,000 in 2008, 2009 and 2010. The 2011 Relay pulled in approximately $126,000.
In its seventeen years, the DePauw-hosted event has now raised approximately $2 million to fight the deadly disease.
Back