DePauw Sweeps Doubleheader at Oberlin; Kosinski Breaks Career RBI Record
April 22, 2012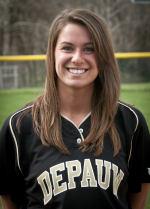 Oberlin, Ohio - DePauw improved to 24-10 overall and 8-6 in the North Coast Athletic Conference following a doubleheader sweep at Oberlin. The Tigers won the first game, 11-1, and took the nightcap, 6-4. Oberlin dropped to 12-24 overall and 2-10 in the NCAC.
In the opener, the Tigers scored a pair of unearned with Holly Paris driving in the second with a double. The Tigers added three more in the second on consecutive RBI doubles by Jamie Story, Rachel MacBeth and Cymone Allen.
DePauw extended the lead to 10-0 with five runs in the fourth. Jen Kosinski (pictured) drove in Story with a single, while Allen also scored on the play. Kosinski later came home on a wild pitch before Haley Buchanan's base hit brought home a pair.
Story led off the fifth with a single and later score on pinch-hitter Megan Landahl's single.
Oberlin's lone run came in fifth when Katie Pieplow hit a solo homer.
DePauw totaled 13 hits led by Paris and Story with three each. Nine Tigers collected at least one hit apiece. Oberlin collected just two hits off of DePauw's Emily Bichler who improved to 6-3. Emily King dropped to 7-13 with the loss.
In game two, DePauw scored two in the first on Haley Buchanan's two-run double before Kosinski hit a three-run homer in the second to make it 5-0. With the homer, Kosinski broke the DePauw career record of 158 RBI previously held by Rachel Gill (2006-09).
Oberlin closed the gap to 5-4 in the fifth as Kristine Kuchta doubled and scored on King's double. Katie Baldonieri singled before Kristen Dix hit a three-run homer.
The Tigers' final run came in the sixth when Kosinski hit a solo homer.
DePauw totaled 10 hits led by Kosinski's three and Buchanan's two. Oberlin finished with nine hits and Pieplow had three and Jennifer Goldsmith added two.
Emily Dieckmann improved to 10-5, while Kahla Nolan notched her second save. Pieplow suffered the loss and dropped to 5-11.
DePauw returns to action on Saturday, April 28, when it hosts Kenyon in a 1 p.m.doubleheader.
Back