Tigers in Tie for Second Halfway Through NCAC Championships
April 22, 2012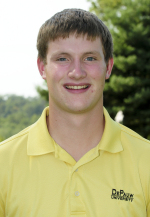 Meadville, Pa. - DePauw shot a second-round 301 and finished in a tie for second with Ohio Wesleyan at the first of two events of the North Coast Athletic Conference Championship series. Wittenberg leads with a 601.
Graham Singer tied for second with a 147, while Ty Frost was seventh with a 150. Brandon Bekkering was tied for 17th at 158 followed by Eric Tandy with a 167 and Charlie Castino with a 172.
Wittenberg's Craig Osterbrock led the field with a 144 including a 71 today.
The Championships wrap up with another three rounds on April 28-29 in Oberlin, Ohio.
Back