Tigers Pick up 30th Win with Extra-Inning Triumph over Engineers
April 25, 2012
Greencastle, Ind. - Zach Galyean's single through the left side in the bottom of the 11th scored Alex Berlyn and lifted DePauw to a 7-6 win over Rose-Hulman at Walker Field.
The Tigers improved to 30-7, while the Engineers dropped to 23-10. The win marked the second time in program DePauw has won 30 games in a season with the 2008 team finishing 35-11.
Berlyn (right) entered the game as a pinch-hitter with one out in the 11th and lined one over the center fielder's head for a triple. After Zach Starr was intentionally walked, Galyean (left) hit a 3-1 pitch for the game-winning single.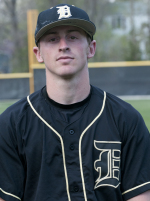 Rose-Hulman jumped out to a 4-0 lead in the first as Will Burchett, Parker Fulkerson and Andrew Benitez each singled and Donald Shopka followed with an RBI ground out. Bobby Newman's sacrifice fly scored Fulkerson and Hank Akard's base hit plated Benitez. Jamie Weinle walked before Akard tried to steal third. Akard came home when the throw went into left field.
The Tigers scored three in the bottom of the second as Robbie Stein doubled and scored on Brendon Pashia's single. Sam Swafford singled and each advanced on a wild pitch with Pashia scoring when the throw to second went into center field. Swafford later scored on Starr's single.
The Engineers pushed the lead to 6-3 in the third after Benitez singled and moved to second when Stopka walked. Newman's sacrifice bunt put the runners on second and third and Akard drove in Benitez with a ground out. Weinle followed with a single which brought home Stopka.
DePauw added two more in the fourth when Stein singled, Pashia walked and Swafford was hit by a pitch. Pat Lyons drove in Stein with a grounder and Pashia came home on a wild pitch to trim the Rose-Hulman lead to 6-5.
The Tigers knotted the score at 6-6 in the sixth as Stein reached on an infield single and moved to second on a passed ball. Swafford's single through the left side moved Stein to third and Lyons' base hit to right scored him.
Rose-Hulman's best scoring chance late in the game came in the 11th with runners on first and third and one out. Burchett hit a grounder to Starr who stepped on second and fired to first for the double play.
DePauw totaled 12 hits as Stein had three with Starr and Swafford totaling two apiece. Rose-Hulman finished with 13 hits with two each from Burchett, Fulkerson, Benitez and Stopka.
Joe Wojda improved to 3-1 after pitching a scoreless 11th and he followed Alex Sroka who tossed three innings of scoreless ball. John Krasich dropped to 1-1 with the loss.
The Tigers return to action on Thursday when they host Washington University in a 3 p.m. single game.
Back