Clean Water Commitment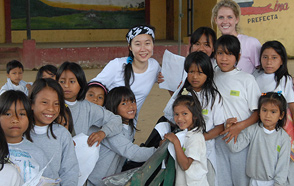 April 26, 2012
Though senior Xinyi "Sunny" Wang spent the past four years studying far from her Shanghai home, as graduation approaches, her thoughts are centered on villages in Ecuador.
Wang traveled to the South American country in 2011 as part of a Winter Term trip organized by Timmy Global Health. The Indianapolis nonprofit hosts the yearly medical brigade of college students, professors and medical professionals to provide healthcare in remote Napo Province. During her trip, the biochemistry and organizational management and communication double major decided she could do more to help.
Many of the villages she visited relied on a nearby river for transportation, food and water. As a public resource, the river was also the cause of many of the health problems the medical brigade faced.
"I realized that when there were so many people with parasite-related diseases," Wang says. "Because they're drinking and using water directly from the river, even if you give them medication every time we have a medical brigade, it probably won't help much because they will pick up the diseases again."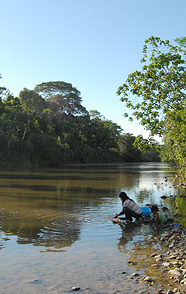 "My idea was to create a water treatment project that would get rid of parasites and bacteria in the drinking water. It needed to be community-based, because the people there wouldn't be able to afford a solution for each home, and I wanted to add an education component that would teach the people about how to avoid things like intestinal parasites."
Wang pitched her idea in an application to the Clinton Global Initiative's CGI University (CGI U) program. Founded by former president Bill Clinton, the Clinton Global Initiative facilitates humanitarian projects, called commitments, around the world. Through CGI U, which supports college students who take on global issues in one of the five focus areas – education, environment and climate change, peace and human rights, poverty alleviation, and public health – she hoped to receive the training and support to put her idea into action.
Wang was invited to attend CGI U's 2012 conference, held in Washington, D.C., March 30-April 1. As one of hundreds of like-minded attendees from across the country and around the world, she networked and traded advice with others who have equally lofty plans. She attended workshops and skill sessions that provided training on topics such as fundraising, grant writing and using social media to generate momentum for a project, and plenary sessions in which panelists such as Madeleine K. Albright, Usher Raymond IV and Twitter co-founder Biz Stone shared their stories. Meanwhile, Clinton and leaders in public service mingled with the students, speaking with them about their plans and offering advice.
For a group of young people who had chosen to do difficult things – many on their own – the time spent together was especially encouraging.
"There was just a huge amount of energy," Wang says. "Everybody had an idea they were passionate about, of something going wrong in the world and how to change it. You could discuss your ideas with each other and share suggestions, and the speakers were experts who gave talks about how they've approached similar problems. I guess the big thing for me was that, here we have these successful people telling you that it is okay to fail and failure is a good thing if you learn from it."
She left the CGI U meeting having met new contacts who are helping to move her project along. One, a water engineer, has hands-on experience putting treatment systems into place. Another worked with a nonprofit that does water research in other areas that may provide a solution suited to Wang's needs.
Next year Wang will continue her commitment as a graduate student at Columbia University's Mailman School of Public Health. She says she hopes to have identified funding for the project by then and believes she found a possible collaborator during a visit to Emory University in Atlanta. While the water treatment project is still an uphill climb, the connection she made with Timmy Global Health means she already has an infrastructure ready to support her in Ecuador.
"What's really good about having worked with Timmy is that it already has a structure set up with the people I'm trying to reach," she says. "So, once I have a treatment system in place, it shouldn't be that hard – I hope."
Wang has one big goal remaining before she leaves DePauw, however. As CGI U's campus representative, she wants to push other students to take advantage of the program and its resources.
"Sometimes you have an idea, but it can be really hard to take the next step," Wang says. "Yes, it's scary to say that you're making a commitment, but there are projects that some organizations on campus are already working on that could easily be turned into CGI U commitments. You get connected with all these other students who share your goals, are great resources and will help you with your project. It's a great group of people."
Interested in making a CGI U commitment? Contact Sunny, or visit the CGI U website for more information.
Back