Harmon and Owens Finish Third and Fourth in NCAC Heptathlon
April 29, 2012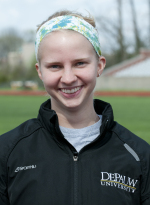 Delaware, Ohio - DePauw juniors Lee Harmon (pictured) and Taryn Owens finished third and fourth, respectively, in the North Coast Athletic Conference heptathlon.
Ohio Wesleyan's Clare Duffy won with 3,912 points, while Kenyon's Cary Watts was second with 3,599. Harmon totaled 3,559 and Owens 3,483.
Listed below are each of their performances by event.
Lee Harmon
Taryn Owens
Event
Mark
Points
Mark
Points
100 hurdles
16.46 seconds
659
16.43 seconds
662
high jump
1.48 m (4-10.25)
599
1.36 m (4-5.5)
470
shot put
8.08 m (26-6.25)
405
7.80 m (25-7.25)
386
200 meters
29.52 seconds
516
29.56 seconds
513
long jump
4.50 m
428
4.13 m
338
javelin throw
25.48 m (83-7)
391
28.34 m (93-0)
445
800 meters
2:41.08
561
2:31.96
669
Back