Musical Tribute to Prof. Cassel Grubb on Sunday
May 2, 2012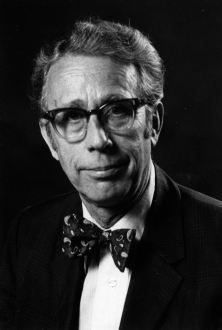 The DePauw University School of Music will pay tribute to one of the most beloved teachers and leaders in its long history this Sunday, May 6, when it presents "A Tribute to Cassel Grubb." The program begins at 3 p.m. in Kresge Auditorium of the Judson and Joyce Green Center for the Performing Arts.
Grubb was a professor of violoncello and theory at DePauw from 1949 until his retirement forty years later. He was appointed director of the School of Music in 1978 and held that post until his retirement in 1989. Grubb passed away January 1 in Greencastle at age 88.
The concert will feature some of Professor Grubb's favorite musical works performed by the DePauw University Choirs and DePauw University Orchestra, as well as guest faculty performers.
The event is free and open to the public.
The Sunday concert will feature movements from J. S. Bach's Suite No. 5 in C minor, BWV 1011 performed by Eric Edberg (cello); Mendelssohn's Trio No. 1 in D minor performed by Dan Rizner (violin), Eric Edberg (cello), and May Phang (piano); Brahm's Ein deutsches Requiem with soloist Pamela Coburn; and a full performance of Ralph Vaughan Williams's Dona Nobis Pacem with soloists Pamela Coburn and Valentin Lanzrein.
"The words 'Cassel Grubb' are spoken only in reverential tones -- not only at DePauw but at Interlochen and other places where music is revered," noted Mark McCoy, Dean of the DePauw University School of Music, upon Professor Grubb's passing.
"His talent as a 'cellist was matched only by his talent as a leader. All accomplishments in the DePauw School of Music are on his shoulders."
The Sunday concert brings a close to the spring concert season for the School of Music –- a season that has been dedicated to the memory of Cassel Grubb.
The concert will be broadcast live on WGRE (on 91.5 and via this online link).
Visit the DePauw University School of Music online by clicking here.
Back