Nic Flores is 2012 Walker Cup Recipient
April 30, 2012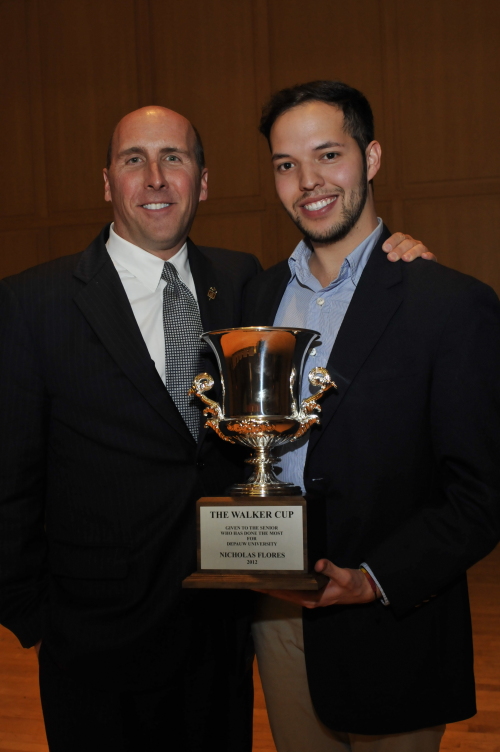 DePauw University senior Nicholas "Nic" Flores is the 2012 recipient of the Walker Cup, which is awarded to the senior who has contributed the most to the DePauw community during his or her four years on campus. Flores received the award tonight at DePauw's Academic Awards Convocation, which took place in the Green Center for the Performing Arts' Kresge Auditorium. (at left: DePauw President Brian Casey with Nic Flores)
As a result of winning the Walker Cup, Flores will speak on behalf of the senior class at DePauw's commencement on Sunday, May 20 at 10:30 a.m. in Holton Memorial Quadrangle.
Flores is an anthropology major and women's studies minor at DePauw, where he is a Bonner Scholar. The senior's other activities include serving as vice president of student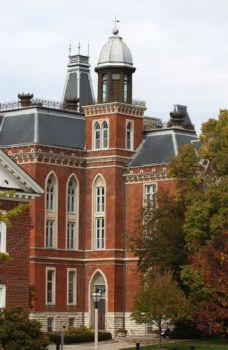 government and as a Compton Center intern, a DePauw Environmental Policy Project intern, a sustainability intern, and as a domestic violence intern for Putnam County Family Support Services.
"My time and experiences have been the most formative, the most transformative, and probably the best years of my life here at DePauw," Flores said as he received the Walker Cup. "This is just a symbol of something that's greater than myself -- this is an award for everyone who has been a part of my life and who has made this DePauw experience worthwhile, enjoyable ... This is not me, this is you."
A video is available below.
A complete listing of all of the awards presented at the convocation can be found here.
Back