Local Schoolkids Perform Shakespeare at DePauw on May 12
May 4, 2012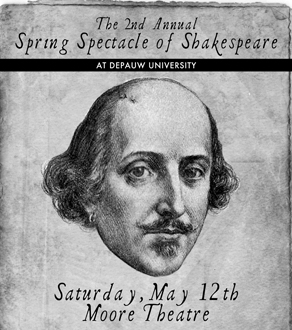 Local school children will take to the DePauw University stage to perform classics that have entertained generations of audiences when DePauw presents the second annual "Spring Spectacle of Shakespeare" on Saturday, May 12. The Putnam County and campus communities are invited to see three shows -- which will be staged in Moore Theatre of the Judson and Joyce Green Center for the Performing Arts. Performances are at 2 p.m., 4 p.m., and 7 p.m. A reception will also be held in the Great Hall at 8:30 p.m.
Students from Cloverdale High School will perform The Comedy of Errors at 2 p.m.; Greencastle Middle and High school students will present Macbeth at 4 p.m.; then students from North Putnam Middle and High School wrap up the day with A Midsummer Night's Dream at 7 p.m.
Tickets can be purchased at the Green Center box office. Student tickets are $3 per play and adult tickets are $6. Festival passes -- which are good for all three presentations -- are $6 for students and $12 for adults.
The full day festival will mark the culmination of a twelve-week-long collaboration between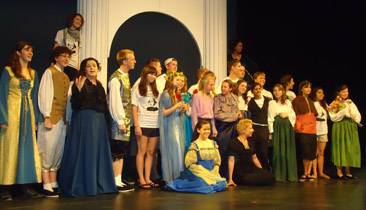 DePauw University and local participating schools in Putnam and neighboring counties to create 90-minute productions of Shakespeare plays. This program is based on a nationally recognized program launched by Massachusetts-based Shakespeare & Company in Lenox, Massachusetts. At DePauw, University students are trained to work with high school and middle school students in their local school buildings and teach the material. The younger students learn to use their bodies and voices through Shakespeare's demanding, yet rewarding, plays.
Learn more about the program in this recent article.
Back