Latest Howey/DePauw Poll Shows Veteran Sen. Richard Lugar Trailing
May 4, 2012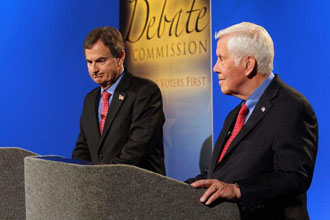 "A new Howey/DePauw Indiana Battleground Poll shows Indiana state Treasurer Richard Mourdock with a ten-point lead over Sen. Dick Lugar in the state's May 8th Republican primary," reports the Washington Post this morning. "Mourdock beats Lugar 48 percent to 38 percent in the bipartisan independent survey, taken Monday and Tuesday of this week." (photo: Mourdock, left, and Lugar, right, debated on April 11; courtesy: Indianapolis Star/Kelly Wilkinson)
The Indianapolis Star notes, "The poll shows a dramatic slide for Lugar, who in his last election in 2006 won with more than 80 percent of the vote after Democrats considered him so unbeatable that they didn't field a candidate against him.Only about a month ago, a Howey/DePauw Battleground poll showed Lugar leading Mourdock 42 percent to 35 percent."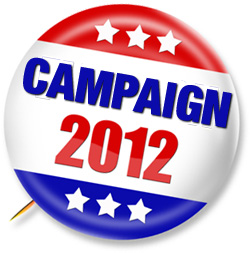 The bipartisan poll was conducted by Republican Christine Matthews of Bellwether Research and Democrat Fred Yang of Garin-Hart-Yang Research Group. They surveyed 700 likely voters April 30 to May 1. The polling was done in conjunction with DePauw University's Pulliam Center for Contemporary Media and Brian Howey, publisher of Howey Politics Indiana.
This is the second in a series of four polls that will be released during the 2012 election cycle. The first Howey/DePauw poll was released on April 5 and two more will be issued in September and October.
Today's news is also noted by Business Week, the Wall Street Journal, CBS News, Reuters and the Huffington Post.
Learn more about the Howey/DePauw Indiana Battleground Poll in this previous article.
Back