Hallett's Sixth-Inning Homer Propels DePauw to NCAC Tourney Win; Kosinski Ties Career Hit Record
May 4, 2012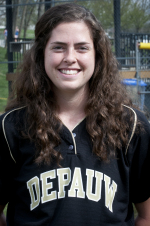 Meadville, Pa. - Amy Hallett's sixth-inning solo homer broke a 1-1 tie and lifted #3 seed DePauw to a 2-1 win over #2 seed Wooster in the opening game of the North Coast Athletic Conference Tournament.
The Tigers improved to 27-10 and returns to action at 2 p.m. today against the Allegheny/Denison winner. Wooster dropped to 25-14 and faces the Allegheny/Denison loser at 4 p.m. today.
Wooster struck first when Paige Goldberg reached on a wild pitch after striking out. Demi Hart advanced her to third and Jenn Horton delivered a run-scoring single.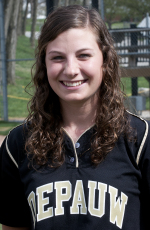 DePauw knotted the score at 1-1 in the fourth when Jen Kosinski led off with a single and moved to second on Hallett's sacrifice bunt. Haley Buchanan followed with a single to center which plated Kosinski.
Hallett's (pictured left) one-out solo homer to left in the sixth gave the Tigers a 2-1 lead and the Tigers held the Fighting Scots scoreless over the final two innings for the win.
DePauw totaled five hits led by Buchanan's two. Kosinski's fourth-inning single was the 211th hit of her career, tying the DePauw record held by Rachel Gill (2006-09). Four different Wooster players had one hit each.
Emily Bichler (pictured right) improved to 7-4 with the win after striking out seven and walking just one. Horton dropped to 14-7 with the loss.
Back