Ross Tosses Complete Game Win as #23 DePauw Stays Alive in NCAC Tourney
May 4, 2012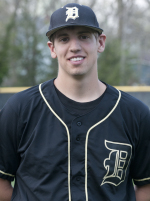 Chillicothe, Ohio - In an elimination game of the North Coast Athletic Conference Baseball Tournament, DePauw rallied for a 5-1 victory over Kenyon.
The 23rd-ranked Tigers improved to 31-11 and face Ohio Wesleyan in another elimination game. That game was suspended in the top of the fifth due to lightning with DePauw leading, 2-0. It will be resumed at 11 a.m. on Saturday. Kenyon finished its season at 27-12.
Kenyon struck first in the third as Jake Dunn hit a one-out triple and scored on Andrew Dunn's single. The Lords loaded the bases, but DePauw's Elliott Ross (pictured) retired the final two batters to end the threat.
DePauw's Sam Swafford hit a two-out double in the fifth and later scored on Zach Starr's single. The Tigers took a 3-1 lead in the sixth when Alex Wright singled with two outs and Robbie Stein followed with a homer to right.
The Tigers' final two runs came in the eighth as Wright walked and Stein was hit by a pitch. Brendon Pashia reached on a fielder's choice which forced Stein at second. After Swafford walked, Wright scored on a wild pitch. Lyons then drove in Pashia with a single to center.
Swafford led DePauw with two of its eight hits, while Devin Ensing and Nate Lotze each had two of the Lords' eight hits.
Ross improved to 7-1 and moved into third place on DePauw's all-time wins list with his 23 career victory. Tyler Dierke dropped to 7-3 with the loss.
Back