DePauw Men in Third after First Day of NCAC Track & Field Championships
May 4, 2012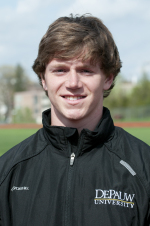 Meadville, Ind. - With 38 points, DePauw's men are in third place after the first day of the North Coast Athletic Conference Championships. Wabash leads with 91 and Ohio Wesleyan is third with 43.
Kyle Mackey (pictured) led four DePauw scorers in the pole vault with a conference championship at 4.56 meters (14-11.5). Aaron Krabill was third at 4.36 meters (14-3.5), Jack Leibovitz fourth at 4.16 meters (13-7.75) and David Garrett fifth at 4.06 meters (13-3.75).T
Tavares Ingram finished seventh in the long jump at 6.34 meters (20-9.75), while Steven Rutherford was eighth at 6.32 meters (20-9).

Licensed to On The Mark Timing - Contractor License
                                        HY-TEK's Meet Manager 5/4/2012 09:38 PM
     North Coast Athletic Conference Championships - 4/28/2012 to 5/5/2012     
                         Hosted by:  Allegheny College                         
                   Combined Events Hosted by:  Ohio Wesleyan                   
                                    Results                                    
 
                     Men - Team Rankings - 6 Events Scored
===============================================================================
    1) Wabash                      91        2) Ohio Wesleyan              43   
    3) DePauw                      38        4) Allegheny                  18   
    5) Oberlin                     16        6) Denison                    15   
    7) Kenyon                       5        8) Wittenberg                  4   
    8) Wooster                      4                                           


Men 100 Meter Dash
========================================================================
        NCAC: % 10.65  2000        Reggie Ray, Wooster                         
    Name                    Year School                 Prelims  Wind H#
========================================================================
Preliminaries
  1 Victor Banjo              FR Wittenberg               10.86Q  0.3  2 
  2 Sean Hildebrand           SO Wabash                   10.89Q  0.2  3 
  3 Chris Roth                SR Denison                  10.93Q  0.7  1 
  4 Shawn Chrapczynski        SR Oberlin                  10.96q  0.7  1 
  5 Sambo Alfred              FR Wabash                   11.17q  0.2  3 
  6 Carlo Gagliardo           SO Kenyon                   11.24q  0.3  2 
  7 Jake Eldridge             JR Ohio Wesleya             11.27q  0.2  3 
  8 Vann Hunt                 JR Wabash                   11.30q  0.3  2  .295
  9 Evan Groninger            JR Wabash                   11.30   0.3  2  .299
 10 Ethan Deselem             JR Wooster                  11.35   0.2  3 
 11 Arion Clanton             FR Wabash                   11.37   0.7  1 
 12 Jake Fishbein             JR Kenyon                   11.42   0.7  1  .418
 13 Robert Flagg              SR Wooster                  11.42   0.2  3  .420
 14 Alex Guo                  JR Oberlin                  11.44   0.2  3 
 15 Femi Oluyedun             SR Wabash                   11.51   0.7  1 
 16 Matt Hunter               FR Ohio Wesleya             11.54   0.3  2 
 17 Steven Rutherford         FR DePauw                   11.56   0.7  1 
 18 Tavares Ingram            SO DePauw                   11.63   0.7  1 
 19 Peter Morris              SR Oberlin                  11.79   0.3  2  .785
 20 Miles Anderson            FR DePauw                   11.79   0.3  2  .788
 21 Brett Williams            JR Kenyon                   11.87   0.7  1 
 22 Remington Jackson         SR Wooster                  12.01   0.2  3 
 
Men 200 Meter Dash
========================================================================
        NCAC: % 21.41  2000        Drayton / Ray, Allegheny /  Wooster         
    Name                    Year School                 Prelims  Wind H#
========================================================================
  1 Chris Roth                SR Denison                  21.78Q  0.5  4 
  2 Silas Jolliff             JR Ohio Wesleya             21.92Q  0.3  3 
  3 Taylor Throckmorton       SR Allegheny                22.17Q  0.9  2 
  4 John Haley                JR Wabash                   22.18Q  0.6  1 
  5 Shawn Chrapczynski        SR Oberlin                  22.18q  0.9  2 
  6 Victor Banjo              FR Wittenberg               22.27q  0.3  3 
  7 Sean Hildebrand           SO Wabash                   22.60q  0.6  1 
  8 Robert Riddle             JR Wabash                   22.66q  0.5  4 
  9 Carlo Gagliardo           SO Kenyon                   22.78   0.3  3 
 10 Garett Bonk               SR Wabash                   22.83   0.5  4 
 11 Ethan Deselem             JR Wooster                  22.95   0.9  2 
 12 Chris Frierson            SO Wittenberg               22.99   0.5  4 
 13 Joseph Conti              FR Wabash                   23.06   0.3  3 
 14 Vann Hunt                 JR Wabash                   23.09   0.6  1 
 15 Jake Eldridge             JR Ohio Wesleya             23.17   0.6  1 
 16 Femi Oluyedun             SR Wabash                   23.21   0.5  4 
 17 Bob Wolf                  SR Kenyon                   23.30   0.9  2 
 18 Arion Clanton             FR Wabash                   23.32   0.3  3 
 19 Peter Morris              SR Oberlin                  23.53   0.9  2 
 20 Remington Jackson         SR Wooster                  23.88   0.6  1 
 21 Brett Williams            JR Kenyon                   24.09   0.6  1 
 22 Stephen Ferguson          SR Wooster                  24.22   0.9  2 
 -- Jack Leibovitz            FR DePauw                     DNS   0.3  3 
 
Men 400 Meter Dash
===================================================================
        NCAC: % 48.22  1999        Tyler Stillman, OWU                         
    Name                    Year School                 Prelims  H#
===================================================================
  1 Silas Jolliff             JR Ohio Wesleya             48.34Q  1 
  2 John Haley                JR Wabash                   49.37Q  2 
  3 Joseph Conti              FR Wabash                   49.90Q  3 
  4 Garett Bonk               SR Wabash                   49.81q  2 
  5 Taylor Throckmorton       SR Allegheny                50.07q  3 
  6 Matt Martin               JR Ohio Wesleya             50.28q  3 
  7 Robert Riddle             JR Wabash                   50.39q  2 
  8 Justin Yates              FR Wittenberg               50.42q  1 
  9 Brian Cook                FR Ohio Wesleya             50.45   3 
 10 Bob Wolf                  SR Kenyon                   50.87   1 
 11 Ivan Neskov               FR Wabash                   51.43   2 
 12 John Lanz                 FR Wooster                  52.97   1 
 13 Sean Edelman              SR Kenyon                   54.13   3 
 14 Jeff Craig                FR DePauw                   54.68   3 
 15 Ivanhoe Hall              SO Denison                  55.01   1 
 -- Dimonde Hale              JR Denison                    DNF   2 
 -- Jack Leibovitz            FR DePauw                     DNS   1 
 -- Thomas Maloney            SR DePauw                     DNS   2 
 
Men 800 Meter Run
================================================================
        NCAC: % 1:51.73  5/5/2006    Geoff Lambert, Wabash                     
    Name                    Year School                 Prelims 
================================================================
  1 Donavan White             SR Wabash                 1:54.72Q 
  2 Jake Waterman             JR Wabash                 1:54.94Q 
  3 Cole Hruskovich           SO Wabash                 1:56.74Q 
  4 Sharif Kronemer           SR Ohio Wesleya           1:54.85q 
  5 Kevin McCarthy            SR Wabash                 1:55.02q 
  6 James Kervan              JR Wabash                 1:55.09q 
  7 Quinn Hull                SO Oberlin                1:55.13q 
  8 Tyler Giesting            SR DePauw                 1:56.04q 
  9 Micah Caunter             SR Wooster                1:56.55q 
 10 David Brew                SO Wooster                1:56.72  
 11 Gavin Hisner              FR Oberlin                1:57.49  
 12 Adam Kapuscinski          FR Wittenberg             1:57.53  
 13 Jacob Caddick             FR Wabash                 1:58.13  
 14 Ryan Hagen                SR Wittenberg             1:58.41  
 15 Jarrett Cowgill           SR Wittenberg             1:58.52  
 16 Mike Vlah                 JR Allegheny              1:58.85  
 17 Dillon Raidt              SO DePauw                 1:59.95  
 18 Jim Easterhouse           FR DePauw                 2:00.23  
 19 Will Hoover               SO Oberlin                2:00.33  
 20 John Batchelder           SR Ohio Wesleya           2:02.07  
 21 Joseph Thackery           SR Denison                2:02.43  
 22 Steven Czujko             JR Denison                2:03.41  
 23 Gus Fuguitt               JR Wooster                2:04.39  
 24 Josh Denison              FR Ohio Wesleya           2:08.83  
 -- Jon Brachna               SO Denison                    DNS  
 
Men 10000 Meter Run
================================================================
 Coaches, use the sheets in your packets to time your athletes.
 Turn them in to the finish line area.  This is your
 responsibilty to keep track of your athlete's laps. Athletes
 finish in lane 3 outside the cones.
        NCAC: % 30:56.99  2002        Brendan Callahan, Wooster                
    Name                    Year School                  Finals 
================================================================
Finals
  1 Makorobondo Salukombo     SR Denison               31:23.29  
  2 Evan Hitchcock            SR Ohio Wesleya          31:26.68  
  3 Patrick McLaughlin        SR Allegheny             31:33.68  
  4 Brian David               SR Wabash                31:40.07  
  5 Dalton Boyer              SO Wabash                32:21.74  
  6 Jared Burris              FR Wabash                32:34.89  
  7 Alexander Chappars        SR Denison               32:46.56  
  8 Matt Bernstein            JR Oberlin               32:50.65  
  9 Jake Ponton               SO Wabash                33:01.75  
 10 Luke Hutchings-Goetz      SO Wooster               33:14.88  
 11 Kenny Farris              SR Wabash                33:26.66  
 12 Trevor Grandy             JR Wittenberg            33:33.78  
 13 Pete Richard              SR DePauw                33:51.67  
 14 Eric Line                 JR Oberlin               33:53.41  
 15 Morgan Clark              SO Wooster               33:55.98  
 16 John Williamson           FR Denison               34:05.70  
 17 Sam Swartz                JR Wooster               34:30.23  
 18 Sean Redfield             SO Wittenberg            34:59.59  
 19 Noah Gatwood              FR DePauw                35:07.54  
 20 Evan Breitsch             SO Allegheny             35:14.23  
 21 Ian McCaslin              SO Ohio Wesleya          36:22.19  
 -- Nathan Kafity             JR Ohio Wesleya               DNF  
 
Men 110 Meter Hurdles
========================================================================
        NCAC: % 14.53  1994        Dwight Carter, Wittenberg                   
    Name                    Year School                 Prelims  Wind H#
========================================================================
Preliminaries
  1 Nathan Mueller            FR Wabash                   14.95Q -1.5  1 
  2 Ronnie Posthauer          FR Wabash                   15.20Q -1.5  2 
  3 Gabriel Incarnato         FR Ohio Wesleya             15.39q -1.5  2 
  4 David Franklin            SR Ohio Wesleya             15.43q -1.5  2 
  4 Billy Rosson              JR Wabash                   15.43q -1.5  1 
  6 Joey Cordle               SO Kenyon                   15.43q -1.5  1 
  7 John Bogucki              SR Wabash                   15.53q -1.5  2 
  8 Myron Burr                JR DePauw                   15.72q -1.5  1 
  9 Patrick Posthauer         JR Wabash                   15.74  -1.5  1 
 10 Matt Hunter               FR Ohio Wesleya             15.95  -1.5  2 
 11 Joel Whittington          FR Wabash                   15.95  -1.5  1 
 12 Nathan Taggart            FR Allegheny                16.42  -1.5  2 
 13 Evan Groninger            JR Wabash                   16.71  -1.5  2 
 14 Juan Rodriguez            FR DePauw                   16.78  -1.5  1 
 15 Evan Finch                FR Oberlin                  17.33  -1.5  2 
 
Men 400 Meter Hurdles
===================================================================
        NCAC: % 52.86  5/1/2010    Wes Chamblee, Wabash                        
    Name                    Year School                 Prelims  H#
===================================================================
  1 Ethan Freet               JR Ohio Wesleya             55.18Q  3 
  2 Jonathan Overstreet       FR Ohio Wesleya             55.82Q  2 
  3 Billy Rosson              JR Wabash                   56.36Q  1 
  4 Joel Whittington          FR Wabash                   56.59q  1 
  5 David Franklin            SR Ohio Wesleya             56.72q  2 
  6 John Bogucki              SR Wabash                   56.75q  1 
  7 Charles Watson            FR Wittenberg               56.81q  3 
  8 Jerry Choi                FR Oberlin                  57.01q  2 
  9 Gabriel Incarnato         FR Ohio Wesleya             58.37   1 
 10 Patrick Posthauer         JR Wabash                   58.56   3 
 11 Ryan Kish                 FR Wooster                  58.70   1 
 12 Nathan Mueller            FR Wabash                   59.27   2 
 13 Jake Carnahan             FR Ohio Wesleya             59.61   3 
 14 Sean Dembowski            JR Oberlin                  59.66   3 
 15 Ethien Morales            FR Ohio Wesleya           1:01.14   2 
 16 Christian Reese           FR Allegheny              1:03.12   1 
 17 Aaron Long                JR Wittenberg             1:03.60   2 
 
Men Pole Vault
==========================================================================
 Hts:  3.81 (12-6), 3.96 (12-11.75), 4.06 (13-3.25)
 4.16 (13-7.75), 4.26 (13-11.75), 4.36 (14-3.5), 4.46 (14-7.5)
 4.56 (14-11.5), 4.66 (15-3.5), 4.76 (15-7.5)
        NCAC: % 16-09  2002        Jeremy Scott, Allegheny                     
    Name                    Year School                  Finals           
==========================================================================
Finals
  1 Kyle Mackey               SO DePauw                   4.56m   14-11.50 
     3.81 3.96 4.06 4.16 4.26 4.36 4.46 4.56 4.86 
        P    P    P    P    O    O    O  XXO  XXX 
  2 Matt Knox                 JR Wabash                   4.46m   14-07.50 
     3.81 3.96 4.06 4.16 4.26 4.36 4.46 4.56 
        P    P    P    O    O    O   XO  XXX 
  3 Aaron Krabill             FR DePauw                   4.36m   14-03.50 
     3.81 3.96 4.06 4.16 4.26 4.36 4.46 
        P    O    O    O   XO   XO  XXX 
  4 Jack Leibovitz            FR DePauw                   4.16m   13-07.75 
     3.81 3.96 4.06 4.16 4.26 
        O    P    O    O  XXX 
  5 David Garrett             JR DePauw                   4.06m   13-03.75 
     3.81 3.96 4.06 4.16 
        P   XO    O  XXX 
  6 Jackson Reid              FR Wabash                  J4.06m   13-03.75 
     3.81 3.96 4.06 4.16 
        O   XO   XO  XXX 
  7 Jay Marshall              SO Wooster                 J4.06m   13-03.75 
     3.81 3.96 4.06 4.16 
        P   XO  XXO  XXX 
  8 Zach Ross                 JR Ohio Wesleya             3.96m   12-11.75 
     3.81 3.96 4.06 
      XXO   XO  XXX 
  9 David Brew                SO Wooster                  3.81m   12-06.00 
     3.81 3.96 
       XO  XXX 
 10 Andrew Diehl              SO Ohio Wesleya            J3.81m   12-06.00 
     3.81 3.96 
      XXO  XXX 
 -- Chris Rogers              FR Kenyon                      NH            
     3.81 
      XXX 
 -- Sam Glowinski             SR Wabash                      NH            
     3.81 
      XXX 
 -- Theron Swanson            JR Wittenberg                  NH            
     3.81 
      XXX 
 -- Wesley Adams              SO Wabash                      NH            
     3.81 
      XXX 
 -- Ryan Bechtel              FR Ohio Wesleya                NH            
     3.81 
      XXX 
 -- Vlad Bursuc               JR Oberlin                     NH            
     3.81 3.96 
      XXX  XXX 
 
Men Long Jump
===============================================================================
        NCAC: % 23-10.25  1988        Scott Shorney, Denison                   
    Name                    Year School                  Finals  Wind          
===============================================================================
  1 Vann Hunt                 JR Wabash                   6.70m  +0.0  21-11.75 
     6.23m(0.3) 6.65m(+0.0) 6.43m(+0.0) 6.70m(+0.0) FOUL        
  2 Nathan Mueller            FR Wabash                   6.67m  +0.0  21-10.75 
     6.30m(+0.0) FOUL      FOUL      6.26m(+0.0) 6.67m(+0.0) 6.38m(+0.0)
  3 Erik Wall                 FR Ohio Wesleya             6.49m  +0.0  21-03.50 
     6.38m(1.6) 6.22m(0.7) 6.00m(+0.0) 6.17m(+0.0) 6.22m(+0.0) 6.49m(+0.0)
  4 Zach Hill                 SO Allegheny                6.44m   0.5  21-01.50 
     6.44m(0.5) FOUL      FOUL      6.32m(+0.0) 6.25m(+0.0) FOUL     
  5 Alex Guo                  JR Oberlin                  6.42m   0.6  21-00.75 
     FOUL      6.35m(+0.0) 6.42m(0.6) FOUL      FOUL      6.24m(0.5)
  6 Joey Cordle               SO Kenyon                   6.39m   0.1  20-11.75 
     FOUL(0.8) 6.29m(+0.0) FOUL      FOUL      FOUL      6.39m(0.1)
  7 Tavares Ingram            SO DePauw                   6.34m  +0.0  20-09.75 
     6.26m(0.1) 5.89m(0.3) 5.60m(0.6) 5.84m(+0.0) FOUL      6.34m(+0.0)
  8 Steven Rutherford         FR DePauw                   6.32m  +0.0  20-09.00 
     6.13m(0.8) 5.98m(+0.0) 6.29m(0.2) 6.32m(+0.0) 6.31m(+0.0) 6.31m(+0.0)
  9 Jack Leibovitz            FR DePauw                   6.25m   0.1  20-06.25 
     5.89m(1.2) 6.25m(0.1) PASS      PASS      PASS      PASS     
 10 Shawn Chrapczynski        SR Oberlin                  6.24m  +0.0  20-05.75 
     FOUL(1.7) 6.24m(+0.0) 5.88m(0.8)           
 11 Matt Hunter               FR Ohio Wesleya             6.23m   0.2  20-05.25 
     6.08m(0.4) 6.23m(0.2) 5.78m(+0.0)           
 12 Taylor Throckmorton       SR Allegheny                6.21m  +0.0  20-04.50 
     6.21m(+0.0) FOUL      6.07m(0.9)           
 13 Andrew Diehl              SO Ohio Wesleya             6.06m   0.8  19-10.75 
     5.88m(1.9) 6.06m(0.8) FOUL                
 14 Robert Flagg              SR Wooster                  5.98m  +0.0  19-07.50 
     5.98m(+0.0) FOUL      5.83m(+0.0)           
 15 Patrick Posthauer         JR Wabash                  J5.98m   0.3  19-07.50 
     FOUL      5.98m(0.3) 5.71m(1.6)           
 16 Sean Dembowski            JR Oberlin                  5.81m  +0.0  19-00.75 
     5.79m(1.5) 5.73m(0.1) 5.81m(+0.0)           
 17 Evan Groninger            JR Wabash                   5.79m  +0.0  19-00.00 
     FOUL      5.79m(+0.0) FOUL                
 18 Ryan Kish                 FR Wooster                  5.69m   2.3  18-08.00 
     5.60m(1.3) 5.68m(0.9) 5.69m(2.3)           
 19 Raphael Allen             SO Wittenberg               5.68m  +0.0  18-07.75 
     FOUL      5.68m(+0.0) 5.60m(1.3)           
 20 Arion Clanton             FR Wabash                   5.60m  +0.0  18-04.50 
     FOUL      5.60m(+0.0) 5.51m(+0.0)           
 21 Jamar Chichester          SO Kenyon                   5.33m  +0.0  17-06.00 
     5.33m(+0.0) 5.24m(+0.0) 4.02m(0.8)           
 -- Steve Uhler               FR Ohio Wesleya               DNS   NWI           
 
Men Shot Put
==========================================================================
        NCAC: % 55-03  1991        Keith Rucker, OWU                           
    Name                    Year School                  Finals           
==========================================================================
  1 Derek De St Jean          FR Wabash                  15.28m   50-01.75 
      14.42m  15.28m  15.16m  FOUL  FOUL  FOUL
  2 Joel Beier                SO Wabash                  14.35m   47-01.00 
      14.29m  13.82m  14.26m  14.35m  14.23m  FOUL
  3 Jon Rux                   SR Ohio Wesleya            13.45m   44-01.50 
      12.53m  13.45m  FOUL  FOUL  FOUL  12.97m
  4 Dominic Babb              JR Oberlin                 13.35m   43-09.75 
      12.78m  13.35m  FOUL  12.59m  FOUL  FOUL
  5 Joe Sukup                 FR Wabash                  13.16m   43-02.25 
      12.02m  12.72m  12.90m  12.68m  13.16m  11.80m
  6 Wendell Taylor            SR Denison                 13.03m   42-09.00 
      FOUL  11.19m  12.53m  11.58m  11.48m  13.03m
  7 Mark Ripper               JR Ohio Wesleya            12.85m   42-02.00 
      FOUL  FOUL  12.51m  FOUL  12.85m  FOUL
  8 Chris Ziska               SR Ohio Wesleya            12.70m   41-08.00 
      12.21m  FOUL  12.70m  FOUL  FOUL  FOUL
  9 Sean Danaher              SO Allegheny               12.16m   39-10.75 
      10.97m  11.33m  11.85m  11.75m  12.16m  11.79m
 10 Ryan Talk                 SR Kenyon                  11.61m   38-01.25 
      11.61m  11.47m  11.46m           
 11 John Bute                 SO Denison                 10.58m   34-08.50 
      10.23m  10.58m  10.51m           
 -- Lucas Herweyer            FR Kenyon                     DNS            
 
Men Discus Throw
==========================================================================
        NCAC: % 175-05  1988        Erwin Grabisna, CWRU                       
    Name                    Year School                  Finals           
==========================================================================
  1 Derek De St Jean          FR Wabash                  48.10m     157-10 
      48.10m  45.66m  45.47m  47.46m  FOUL  45.71m
  2 Kris Klondaris            SR Wabash                  41.75m     137-00 
      FOUL  30.83m  38.72m  FOUL  39.70m  41.75m
  3 Devin Kelley              SR Wabash                  40.22m     131-11 
      FOUL  FOUL  38.87m  40.07m  40.22m  FOUL
  4 Jon Rux                   SR Ohio Wesleya            39.99m     131-02 
      39.20m  39.99m  FOUL  38.10m  36.14m  FOUL
  5 Sven Isaacson             JR Wittenberg              39.77m     130-06 
      38.42m  39.11m  39.11m  39.77m  38.40m  36.94m
  6 Sean Danaher              SO Allegheny               38.30m     125-08 
      35.32m  FOUL  34.47m  FOUL  38.13m  38.30m
  7 Ryan Talk                 SR Kenyon                  37.94m     124-06 
      37.58m  36.65m  37.06m  37.94m  FOUL  36.17m
  8 Pierce Velderman          FR Wabash                  36.36m     119-03 
      34.82m  33.53m  33.83m  36.14m  FOUL  36.36m
  9 Lucas Herweyer            FR Kenyon                  35.38m     116-01 
      35.38m  FOUL  FOUL           
 10 Wendell Taylor            SR Denison                 34.35m     112-08 
      34.35m  33.18m  FOUL           
 11 Michael Petro             FR Allegheny               32.88m     107-10 
      32.88m  FOUL  FOUL           
 12 John Bute                 SO Denison                 32.47m     106-06 
      30.73m  31.32m  32.47m           
 13 Daniel Akuma              SO Kenyon                  30.00m      98-05 
      30.00m  26.69m  24.40m           
 14 Logan Pry                 SR Wooster                 26.36m      86-06 
      FOUL  FOUL  26.36m           
 -- William Duncanson         SO Allegheny                 FOUL            
      FOUL  FOUL  FOUL           
 -- Ethan Perry               JR Ohio Wesleya              FOUL            
      FOUL  FOUL  FOUL           
 -- Conor Narovec             FR Oberlin                   FOUL            
      FOUL  FOUL  FOUL           
 -- Chris Ziska               SR Ohio Wesleya              FOUL            
      FOUL  FOUL  FOUL           
 
 

Back