DePauw Selected as Host of Opening Three Rounds of NCAA Division III Championships
May 7, 2012
OFFICIAL NCAA SITE | PRINTABLE BRACKET |LIVE SCORING | DEPAUW HOST SITE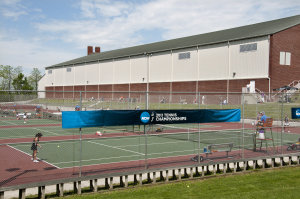 Greencastle, Ind. - DePauw University has been selected as one of eight hosts for the opening three rounds of the 49-team NCAA Division III Women's Tennis Championships, May 10-12.
The first opening-round match on Thursday, May 10, at 10 a.m. feature Wheaton (Ill.) College (19-2), champion of the College Conference of Illinois and Wisconsin, facing Webster University (19-2), the St. Louis Intercollegiate Athletic Conference champ at 10
Michigan Intercollegiate Athletic Association champion Hope College (18-7) faces Iowa Intercollegiate Athletic Conference champion Coe College (21-3) in Thursday's 2 p.m. match.
On Friday, North Coast Athletic Conference champion DePauw (17-6) takes on the Wheaton/Webster winner at 10 a.m., while Carnegie Mellon University (16-5), which earned an at-large bid, faces the Hope/Coe winner at 2 p.m. Friday's winners play on Saturday at 10 a.m. with that winner earning a spot in the NCAA quarterfinals.
DePauw is ranked eighth in the latest poll and is making its 11th Division III appearance and eighth straight. Carnegie Mellon, ranked sixth in the latest Division III coaches' poll, is making its eighth straight Division III appearance and eighth overall. The two schools competed at the ITA Indoor Championships, hosted by DePauw, with Carnegie Mellon finishing second and DePauw third.
Hope and Wheaton are each making their seventh appearance, while Coe is appearing for third time and Webster for the second.
The Division III quarterfinals as well and the singles and doubles championships will be held in Cary, N.C.,
Back