Kelly Conway '99 Named Chrysler Museum's Carolyn and Richard Barry Curator of Glass
May 8, 2012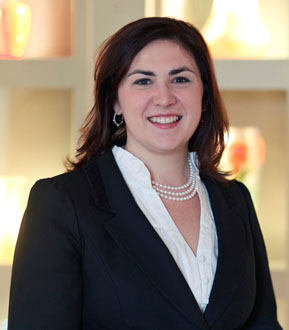 Kelly A. Conway, a 1999 graduate of DePauw University, has been named as the first Carolyn and Richard Barry Curator of Glass at the Chrysler Museum of Art. Conway was appointed curator of glass at the Chrysler Museum, located in Norfolk, Virginia, in 2007.
The new endowed position "is part of the success of the Chrysler Museum of Art's capital campaign to raise $45 million," reports Art Daily. "The campaign has three primary goals that include the Chrysler Museum Glass Studio, which opened in November 2011; the expansion and renovation of the museum, which was approved and announced in March; and the strengthening of endowments to secure the financial future for the museum."
"I'm honored to be the Carolyn and Richard Barry Curator of Glass," says Conway, who majored in history at DePauw and masters degree in the history of decorative arts from the Parsons School of Design at the Smithsonian Associates. She notes, "The Barrys are passionate advocates for the Chrysler's
glass collection, and the endowment comes at an exciting time for glass at the museum. In addition to opening the new glass studio, we will be expanding the galleries that house our extraordinary holdings in historical and contemporary glass. The project includes a complete reinstallation of our collection, with engaging new research, new glass exhibition spaces, and beautifully lit new displays. In 2014, we will also publish a new catalogue highlighting many of the best works in our glass collection."
Learn more by clicking here.
Back