Junior Wins Pickering Foreign Affairs Fellowship
May 8, 2012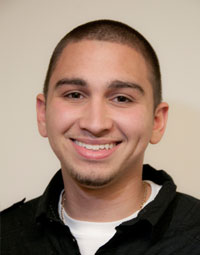 Hermes R. Grullon, a DePauw University junior, is the recipient of a Thomas R. Pickering Undergraduate Foreign Affairs Fellowship. Grullon, who is studying in Nicaragua this semester, is a political science major.
The Pickering Fellowship program provides funding to participants as they are prepared academically and professionally to enter the United States Department of State Foreign Service. It seeks to recruit talented students in academic programs relevant to international affairs, political and economic analysis, administration, management, and science policy. The goal is to attract outstanding students from all ethnic, racial, and social backgrounds who have an interest in pursuing a Foreign Service career in the U.S. Department of State. The program develops a source of trained men and women from academic disciplines representing the skill needs of
the department, who are dedicated to representing America's interests abroad.
At DePauw, Grullon has been a resident intern at the Cultural Resource Center, as well as a reflections intern for the 2011 Winter Term in Service trip to Costa Rica. He has been active with he Bonner Scholar program and the Committee of Latino Concerns.
Last year, Grullon was selected as a 2011 Institute for International Public Policy (IIPP) Fellow. Learn more in this previous story.
Back