Tigers Place Five on All-NCAC Women's Tennis Teams; MacPhail Named Top Newcomer
May 9, 2012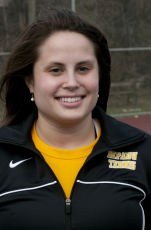 Greencastle, Ind. - In voting by the North Coast Athletic Conference coaches, DePauw placed five student-athletes on the women's tennis all-conference team.
Kelly Gebert (Sr., Wichita, Kan./Kapuan Mt. Carmel Catholic) and Maggie MacPhail (Fr., Indianapolis, Ind./Park Tudor) were selected to the first team in singles, while Meg Crowley (So., Barrington, Ill./Barrington) was a second team choice.
Gebert (pictured far left) was 17-14 for the season at number one singles, while MacPhail (near left) was 23-8 at the number-two spot. Crowley posted a 15-11 record, while playing number-three singles.
Claire Marshall (Fr., Marietta, Ga./George Walton) and Katie Regan (Sr., Sebastopol, Calif./Analy) were named honorable mention in singles.
Gebert and MacPhail earned first team doubles honors after notching a 22-10 record as a tandem this season at the number one spot. Crowley and Marshall were second team choices with a 15-11 mark at number two doubles.
MacPhail also was selected as the NCAC Newcomer of the Year.
DePauw, ranked eighth in Division III, is 17-6 on the season and won the NCAC team title. The Tigers earned a spot in the NCAA Division III Championships for the eighth straight season and host the opening three rounds of the tournament beginning tomorrow.
Back