Monon Bell Classic Listed Among 'Indiana's Top 100'
May 10, 2012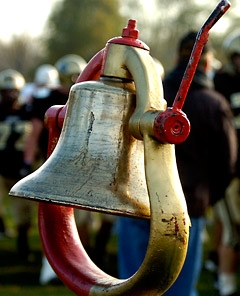 "The Indiana Economic Development Corporation's 'Indiana's Top 100' highlights facts and figures designed to make the state more enticing to business ventures including corporate tax rates, short commuting times and entrepreneurship opportunities," according to Inside Indiana Business. "The list even includes signature traditions such as the DePauw University versus Wabash College annual 'Monon Bell' game, our NASA astronaut legacy and big event prowess."
At #90 on the IEDC list and headlined "Pigskin Pageantry Doesn't Get Any Better," the notation reads, "The annual battle for the Monon Bell, between DePauw University, in Greencastle, and Wabash College, in Crawfordsville, is one of the oldest football rivalries in the nation."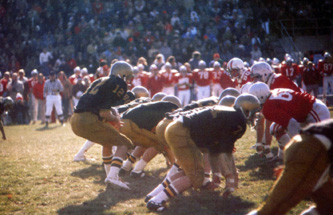 Access the item here, or see the complete list.
The series began in 1890. After 118 gridiron battles between DePauw and Wabash, the men from Crawfordsville lead the all-time series, 56-53-9, while the rivalry is tied since the Monon Bell was introduced as the victor's prize in 1932, 37-37-6.

[Download Video: "Ballad of the Monon Bell - 2007 Version" - 10,419kb]

[Download Audio: "Ballad of the Monon Bell - Stereo" - 2514kb]
Access DePauw's Monon Bell Web page here.
A complete roster of "Monon Memories" -- 118 video highlights of all the past games -- can be found here.
Fourteen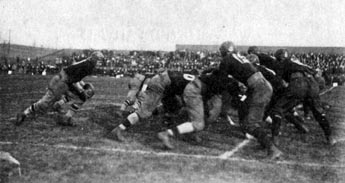 Monon Bell Classics are available on DVD. Details can be found in this article (at right: image from 1916 DePauw-Wabash game)
Voted Indiana's "best sports rivalry" by visitors to ESPN.com, the Monon Bell Classic has been televised by ABC and ESPN2 and has been the subject of features in Sports Illustrated and USA Today and on Charles Kuralt's CBS Sunday Morning. The annual DePauw-Wabash clash is also detailed in Rites of Autumn: The Story of College Football, a book by Richard Whittingham. The game is seen on national television each year via HDNet.
Back