Broadcast TV "Not That Essential" to Young People, Says Prof. Jeff McCall '76
May 11, 2012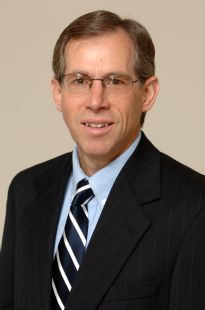 A story in this morning's Los Angeles Times, headlined "TV networks desperately seeking young-adult viewers," includes comments from DePauw University Professor Jeff McCall. Scott Collins writes, "As they get ready to roll out their fall lineups next week in New York, rival networks know the feeling. TV executives are scrambling to counter steep drop-offs among young-adult viewers and some record-low series ratings this spring."
The piece notes, "As Jeffrey McCall, a communications professor at DePauw University, concluded: 'Regular broadcast television is just not that essential in the lives of many young adults.' "
You'll find the complete text at the Times' website (a subscription may be required to access content).
Professor McCall is a 1976 graduate of DePauw. The author of Viewer Discretion Advised: Taking Control of Mass Media Influences, he is frequently called upon by major news outlets to discuss media matters and has been quoted in more than 100 newspapers.
Read his recent newspaper op-ed on the increasingly commercial messages airing on public television stations.
Source: Los Angeles Times
Back