TV Station Features Standout Scholar-Athlete Catie Baker '12
May 11, 2012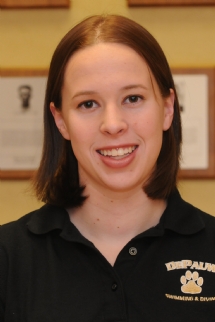 "I chose Division III because I wanted the balance between athletics and academics," DePauw University senior Catie Baker tells KCRG-TV in Cedar Rapids, Iowa. A swimmer, "Baker is a three-time All-American and an Academic All-American," reports John Campbell. A double major in mathematics and computer science, "Her name is all over the Tiger record board."
"Catie, who has been president of her sorority and head tutor in the computer science lab, is also a recipient of the Barry M. Goldwater Scholarship, the premier undergraduate award in the United States," notes Campbell, who is 1969 graduate of DePauw.
The report also features comments from Mary Bretscher, women's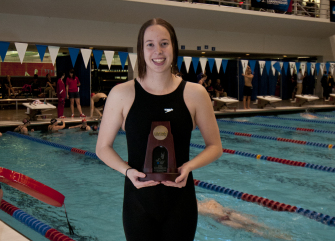 swimming coach at DePauw.
Catherine "Catie" Baker was selected as DePauw's top senior female student-athlete by DePauw's athletics department as she earned the Amy Hasbrook Award. She was recently awarded a National Science Foundation Graduate Research Fellowship to support Ph.D. studies she will begin in Fall 2012.
See the piece at the TV station's website. It is also embedded below.
Source: KCRG-TV/Cedar Rapids, Iowa
Back