#8 DePauw Advances to NCAA Third Round with 5-1 Win over Wheaton
May 11, 2012
OFFICIAL NCAA SITE | DEPAUW HOST SITE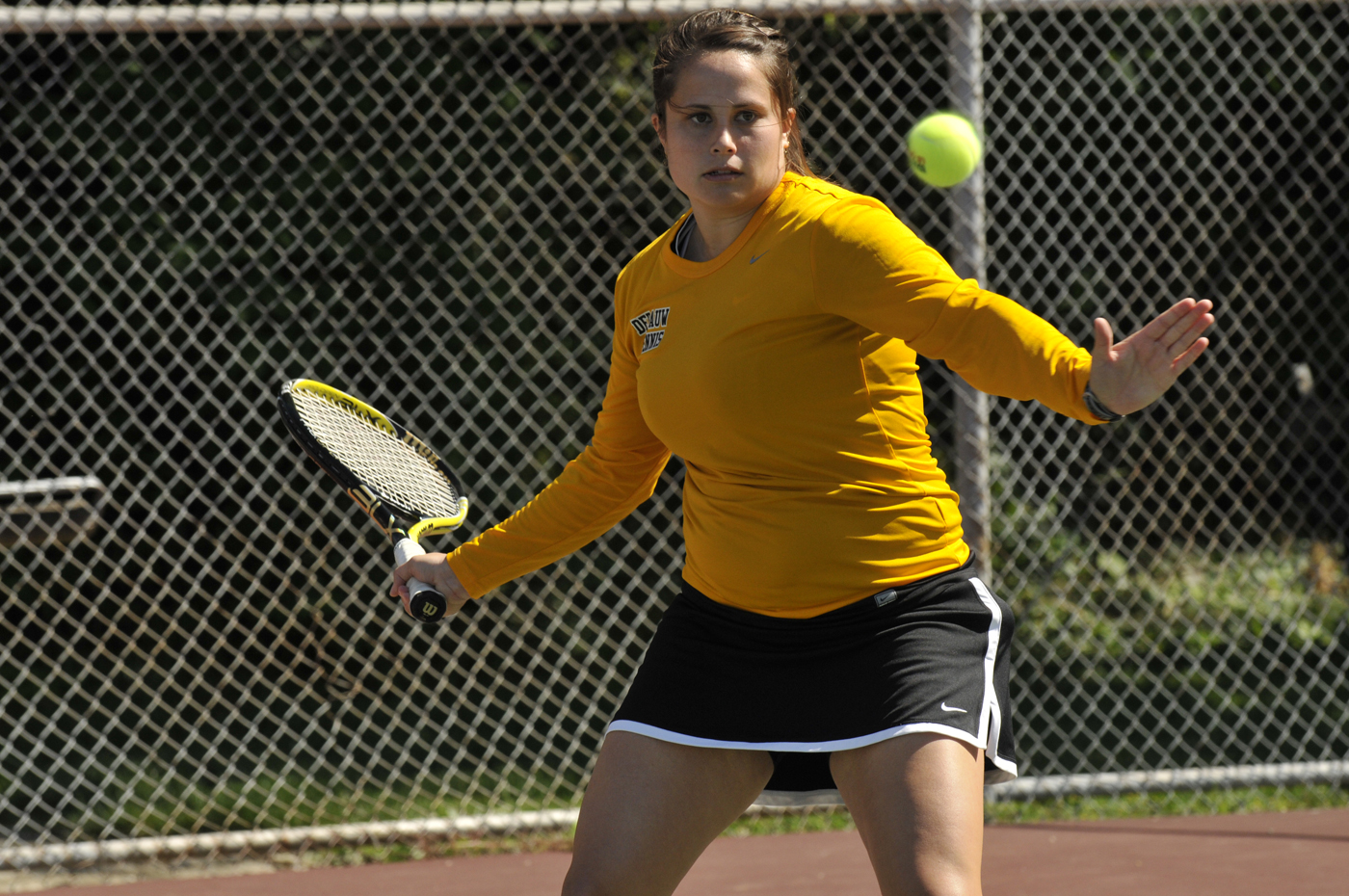 Greencastle, Ind. - Eighth-ranked DePauw advanced to the third round of the NCAA Division III Women's Tennis Championships following a 5-1 win over Wheaton (Ill.). The Tigers improved to 18-6 and will face the winner of today's Carnegie Mellon/Coe match at 10 a.m. on Saturday. The Thunder finished their season at 20-3.
DePauw took a 2-0 lead after a pair of 8-0 doubles wins. Kelly Gebert and Maggie MacPhail blanked Elizabeth Worsowicz and Sarah Ray at number one with the number three team of Caroline Emhardt and Julie Wittwer topping Kirsten Boyer and Julia Carey. Wheaton's first point came at second doubles as Melanie Milling and Marissa Shults defeated Meg Crowley and Claire Marshall, 8-3.
The Tigers' Katie Regan took a 6-0, 6-2 win over Boyer at number three singles before Wittwer defeated Shults 6-3, 6-1 at fifth singles to push the lead to 4-1. Kaitlin Pickrel wrapped up the match for the Tigers at number-six singles with a 6-3, 6-3 victory over Carey.
Wheaton (Ill.) College vs DePauw University
5/10/2012 at DePauw University; Greencastle Ind,
(Blackstock Courts)

#8 DePauw University 5, Wheaton (Ill.) College 1

Singles competition
1. Kelly Gebert (DPU) vs. Elizabeth Worsowicz (WHEATON) 1-6, 5-4, unfinished
2. Maggie MacPhail (DPU) vs. Sarah Ray (WHEATON) 6-3, 5-5, unfinished
3. Katie Regan (DPU) def. Kirsten Boyer (WHEATON) 6-0, 6-2
4. Caroline Emhardt (DPU) vs. Lauren Schlabach (WHEATON) 6-3, 4-2, unfinished
5. Julie Wittwer (DPU) def. Marissa Shults (WHEATON) 6-3, 6-1
6. Kaitlin Pickrel (DPU) def. Julia Carey (WHEATON) 6-3, 6-3

Doubles competition
1. Kelly Gebert/Maggie MacPhail (DPU) def. Elizabeth Worsowicz/Sarah Ray (WHEATON) 8-0
2. Melanie Milling/Marissa Shults (WHEATON) def. Meg Crowley/Claire Marshall (DPU) 8-3
3. Caroline Emhardt/Julie Wittwer (DPU) def. Kirsten Boyer/Julia Carey (WHEATON) 8-0

Match Notes:
Wheaton (Ill.) College 20-3
DePauw University 18-6; National ranking #8
Order of finish: Doubles (1,3,2); Singles (3,5,6)
NCAA Division III Women's Tennis Championship Second Round
DePauw advances to third round on Sat. at 10 a.m. against Carnegie Mellon or Coe
T-2:30 A-75


Back