Campus and Community Celebrate Successful Effort to 'Digitize Greencastle'
May 12, 2012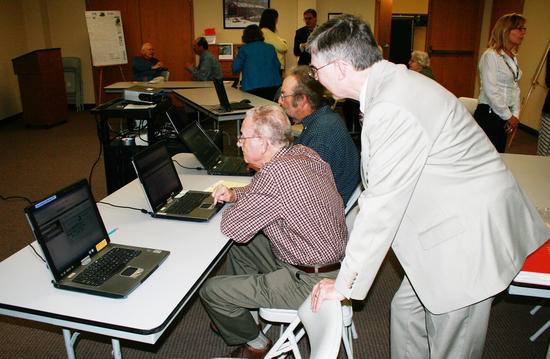 "This has been one of the smoothest collaborations I've ever been a part of," Rick Provine, director of libraries at DePauw University, says of "Digitizing Greencastle: Newspapers 1837-1979." The project, which involved digitizing thousands of issues of Greencastle newspapers and making them available online, has wrapped up. The culmination of the project was celebrated at a Wednesday event at DePauw's Roy O. West Library.
The Banner-Graphic's Eric Bernsee writes, "The idea for the project came about, DePauw systems librarian Brooke Cox told those attending Wednesday's reception, after the university launched its digital library (among its shared offerings are 24,000 photographs from the donated collection of the late Ralph Taylor of Taylor Graphics). 'We frequently sat in planning meetings,' Cox said, 'where we would say, 'Gee, wouldn't it be great to have the Banner online?' And someone else would say, 'Yeah, we should get a grant.' That's when Cox, Provine and DPU Archivist Wes Wilson enlisted (Putnam County Public Library) librarian Alice Greenburg and Banner-Graphic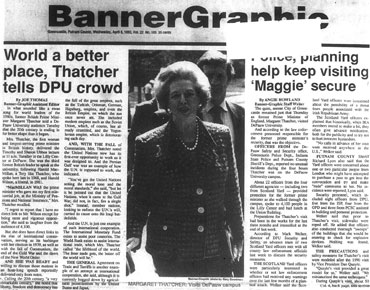 Publisher Randy List in researching the possibility, and soon a grant proposal emerged through the Indiana State Library ... Digitizing Greencastle was made possible by a grant from the U.S. Institute of Museum and Library Services (IMLS), administered by the Indiana State Library."
"I'm thrilled we're able to offer something like this back to the community," Provine tells the newspaper, calling the project "the town-and-gown manifestation of our history."
Read more here, and access the online database of Greencastle newspapers by clicking here.
Also available is this previous story.
Back