Sunday's Commencement Will be Webcast; Forecast is for Sun & Heat
May 16, 2012
Also: Watch Webcast; Order Commencement DVD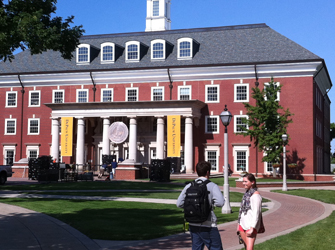 With four days remaining until DePauw University's 173rd annual commencement, the forecast is looking ideal for the ceremonies, which are scheduled to take place outdoors in Holton Memorial Quadrangle. The weekend outlook is for sunny and dry conditions, with Sunday calling for more sun than clouds and a high in the mid-80s.
The graduation ceremony is set to begin at 10:30 a.m. In the event of adverse conditions, the proceedings will be moved to the Lilly Center.
You'll find the latest weather forecast by clicking here.
Approximately 500 students are expected to receive degrees.
Yesterday, crews began erecting the stage in front of Roy O. West Library.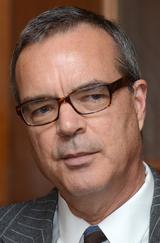 James B. Stewart -- Pulitzer Prize-winning journalist, bestselling author, columnist for the New York Times and 1973 graduate of DePauw -- will deliver the principal address to DePauw's Class of 2012 at his alma mater's 173rd annual commencement. The ceremony will take place on Sunday. Stewart, a member of DePauw's Board of Trustees, will also be presented with DePauw's Bernard C. Kilgore Medal for Distinguished Lifetime Achievement in Journalism.
Five distinguished individuals -- David Baker, Amy Goodman, Sara Lennox '65, Timothy Ubben '58 and Sharon Williams Ubben '58 -- will receive honorary doctoral degrees at the event.
For a fifth consecutive year, the graduation exercises will be webcast live. By clicking this link, you'll be able to access a video and audio feed of the complete program.
A higher-quality, permanent video of DePauw's 2012 commencement is available via a limited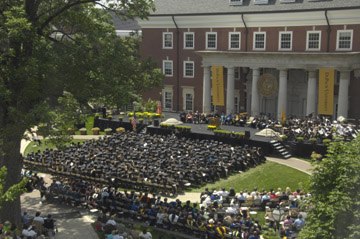 edition commemorative DVD, which is available for pre-order. The disc, which is professionally replicated, will include footage of each graduate receiving their DePauw diploma as well as a range of bonus materials. Orders are now being accepted at $19.95 for the first disc; additional DVDs sent to the same address will be $8 each (7% sales tax will be added to Indiana orders). An online order form is available here; you can learn more about the disc in this article.
For more information on DePauw's commencement, click here.
Back