DePauw Advances in NCAA Baseball Regional with Win over Emory
May 16, 2012
BOX SCORE | OFFICIAL NCAA SITE | REGIONAL SITE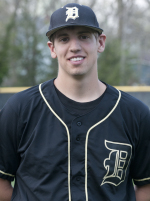 Millington, Tenn. - Elliott Ross (pictured) tossed a four-hit shutout as third-seed DePauw blanked fourth-seed Emory. 2-0. in each team's opening game of the Millington, Tenn., Regional in the NCAA Division III Baseball Championship.
The Tigers, now 34-12, face Webster on Thursday at 7 p.m. CDT, while Emory (26-13) takes on Birmingham-Southern at 3:30 p.m. CDT tomorrow.
DePauw's lone run came in the bottom of the fourth when Jason Cohen doubled with one out and scored after Alex Wright singled to center.
Emory loaded the bases in the top of the fifth with one out, but a strikeout and fly out ended the threat.
The Tigers scored their second run in the eighth when Zach Starr was hit by a pitch with one out and stoole second. Zach Galyean reached on an error which advanced Starr to third before Cohen grounded out to first, driving in Starr.
DePauw totaled five hits with Cohen leading the way with two. Four different Eagles collected one hit apiece.
Ross improved to 8-1 and won his eighth straight decision. The senior struck out nine and walked three with his first nine-inning shutout since a two-hitter against Oglethorpe, April 2, 2011. Ross has allowed just one run in 18 innings in his last two starts.
Paul Schwendel dropped to 6-4 despite striking out 11 and walking just one.
The Tigers are making their first NCAA appearance since 2001 and snapped a 7-game losing streak in Division III postseason play with their first win since a 12-6 victory over York in 1977.
Back