Forecast is Rain-Free as Commencement Approaches; Webcast and DVD Information
May 19, 2012
Key Links: Watch Webcast; Order Commencement DVD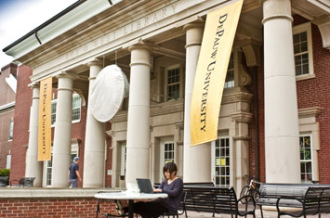 The forecast looks rain-free as the clock ticks toward DePauw University's 173rd annual commencement, which begins at 10:30 a.m. (EST) Sunday. As of 4:15 p.m. Saturday, the Sunday forecast was for mainly sunny skies with a few afternoon clouds. The high will be a toasty 88 degrees with zero percent chance of rain.
You'll find the latest weather forecast by clicking here.
Approximately 500 students are expected to receive degrees. James B. Stewart -- Pulitzer Prize-winning journalist, bestselling author, columnist for the New York Times and 1973 graduate of DePauw --
will deliver the principal address to DePauw's Class of 2012
In the event of adverse conditions, the proceedings will be moved to the Lilly Center.
Video and audio of the event will be webcast live via this link, and DVDs are available here.
More details are available in this previous story or at the official commencement web page.
Back