Catie Baker Earns NCAA Postgraduate Scholarship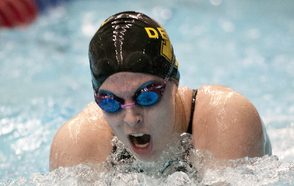 May 23, 2012
Greencastle, Ind.— Catie Baker (Cedar Rapids, Iowa/Kennedy) of the women's swimming and diving team who graduated on Sunday, has been selected as an NCAA Postgraduate Scholarship recipient. She is the 19th DePauw student-athlete to earn the distinction since 1968.
A two-time Capital One Academic All-America selection, Baker had a 3.99 grade point average through seven semester while majoring in both computer science and mathematics. She's been named to DePauw's Dean's List all seven semesters and has been awarded a National Science Foundation Graduate Research Fellowship.
Baker has served as a mentor for both the DePauw.year1 and Women in Science programs and is a member of Chi Alpha Sigma National College Athlete Honor Society. She also served as president of the Delta Gamma sorority.
In the pool, Baker was a three-time NCAA Division III all-America honoree in the 100-yard breaststroke. She also earned honorable mention all-America three times in the 200 breast and once in the 200 individual medley. Baker was a three-time College Swim Coaches Association Scholar All-American and earned Southern Collegiate Athletic Conference Swimmer of the Year honors in 2010 and 2011. The 2011 SCAC Swimmer of the Meet, Baker was a 10-time SCAC champion and set the conference's meet record in the 200 breast. Baker is DePauw's all-time career and single-season point leader and holds two individual school records and two as a member of relays.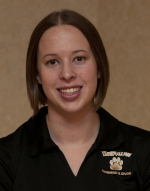 The NCAA awards up to 174 postgraduate scholarships annually, 87 for men and 87 for women. The scholarships are awarded to student-athletes who excel academically and athletically and who are at least in their final year of intercollegiate athletics competition.
The one-time grants of $7,500 each are awarded for fall sports, winter sports and spring sports. Each sports season (fall, winter and spring), there are 29 scholarships available for men and 29 scholarships available for women. The scholarships are one-time, non-renewable grants.
To qualify for an NCAA Postgraduate Scholarship, a student-athlete must have an overall grade-point average of 3.200 (on a 4.000 scale) or its equivalent, and must have performed with distinction as a member of the varsity team in the sport in which the student-athlete was nominated. The student-athletes chosen have showed dedication and effort while performing both on and off the field at a high level that has brought credit to the student-athlete, the institution and intercollegiate athletics.
DePauw's NCAA Postgraduate Scholarship Recipients
Year
Student-Athlete
Sport in which scholarship was awarded
1968
Bruce Montgomerie
football
1969
Tom McCormick
men's basketball
1970
Richard Tharp
men's basketball
1972
Steve Overman
men's basketball
1973
Gordon Pittenger
men's basketball
1977
Mike Kinney
men's track and field
1978
Mark Frazer
football
1981
Jay True
football
1985
Rich Bonaccorsi
football
1986
Tony de Nicola
football
1986
Phil Wendel
men's basketball
1988
Nancy Gritter
women's swimming and diving
1992
Tom Beaulieu
football
1998
Charee Campbell
women's swimming and diving
1999
Susan Bender
women's basketball
2001
Adrienne Gough
women's cross country/track & field
2003
Katie Reis
women's swimming and diving
2010
Megan Soultz
softball
2012
Catie Baker
women's swimming and diving
Back