2012 Commencement DVD Now at Factory, Will Ship in 2 Weeks
May 26, 2012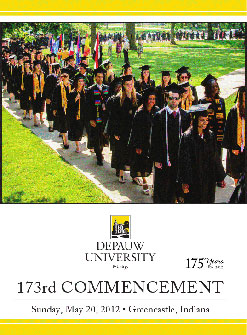 Order Commencement DVD
Production of the 2012 DePauw University commencement DVD has been completed and, six days after the event took place, the disc is now being replicated on the East Coast. The disc -- which includes the 173rd commencement exercises and a range of bonus features and is being produced in limited quantities -- should ship on approximately June 9. (at right: front cover of the DVD package)
Orders are still being accepted at $19.95 for the first disc; additional DVDs sent to the same address will be $8 each (7% sales tax will be added to Indiana orders). An online order form is available here.
The four-camera production provides a permanent keepsake of a special day. Included are all of the speeches -- including the principal address by Pulitzer Prize-winning journalist James B. Stewart '73 -- as well as video each member of the Class of 2012 receiving his or her diploma.
If you wish to see a graduate whose last name is Jones, for example, you click on the letter 'J' in the disc's naviagtion menu and are immediately taken to the first person whose last name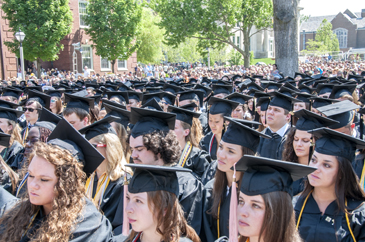 begins with the letter 'J' receiving his or her diploma. Users can also jump to specific speeches, or watch the program from beginning to end.
The disc's bonus features include the video created for the University's 175th anniversary celebration, as well as a look at the sesquicentennial in 1987, and a film (narrated by Professor Emeritus John Baughman '48) of DePauw's centennial gala in 1937. Viewers can also enjoy campus highlights of the past four years (ranging from clips of the opening convocation at which the Class of 2012 was welcomed to DePauw and Ubben Lecturers such as Bill Clinton, Leyhmah Gbowee, Karl Rove and Howard Dean); "Monon Memories"of the last four football battles with Wabash College for the prized Monon Bell; a photo gallery of commencement day activities; and vintage film from the DePauw Archives.
It is the twenty-ninth DVD that DePauw
has produced. Past projects include 14 Monon Bell Classics (1977, 1994 and 2000-11), some of which remain available here (supplies are very limited of the 2002, 2007 and 2010 DVDs). Also available are DVDs of the 2002-11 commencement ceremonies via this link.
For more information on DePauw's 173rd Annual Commencement, click here.
An archived webcast of the program will be available for a limited time via this link.
Back