Tennis Coach Scott Riggle Profiled on NCAA.com
May 29, 2012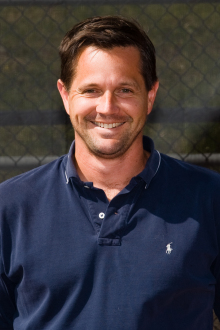 A story on the NCAA's website -- headlined "Can't keep a good man down" -- details how Scott Riggle, head men's and women's tennis coach at DePauw University, has responded to a September 2010 diagnosis of early onset Parkinson's disease. "I think this is the perfect disease for a tennis player or coach," Riggle says. "You have to grind it out. You have to stay positive. You have to stay mentally tough. You have to deal with adversity. All the lessons you learn in tennis through playing and coaching apply to this disease."
Riggle, who was 44 when diagnosed, adds, "Coaches don't get an opportunity very often to practice what we preach. This is a good opportunity, I think, to show kids how to deal with adversity and set a good example. I try to stay positive and have a light tone. I try to use humor."
Rick Houston writes, "Every year on New Year's Eve, Riggle hosts an adult tennis tournament in Greencastle, Ind. Three months after his diagnosis, wristbands showed up at the event with 'Team Riggle' wristbands. If the small tokens of support encouraged him, they also gave him
an idea to pay it forward. While he figures the Team Riggle Foundation won't generate the kind of attention that fellow PD patient Michael J. Fox has brought to the disease, he does have his goals. He wants to help the Mayo Clinic. He sees support groups for the spouses of those with Parkinson's, and somewhere along the line a center for young onset patients."
"If we can help a little bit and maybe inspire some young player –- whether it's on my team or another team – to go into research and maybe find a cure, then maybe this can turn into a positive," says the coach.
Access the complete article at NCAA.com.
Back