Former Prof. David Klooster Dies at Age 58
June 3, 2012
David J. Klooster, a professor of English at Hope College and a member of the DePauw University faculty from 1984 to 1989, died yesterday from a brain tumor. He was 58 years old.
A 1975 graduate of Calvin College, where he majored in English and philosophy, Klooster earned his Master of Arts degree at the University of Chicago in 1976, and doctorate at Boston College in 1985.
Professor Klooster came to Hope, where he chaired the English department, in 2000, after spending eleven years directing the writing program at John Carroll University in Ohio. He also taught at Calvin College and at Northeastern University.
At DePauw, he was an assistant professor of English and was director of the University's Writing Center.
His books included The Writer's Community, Ideas Without Boundaries: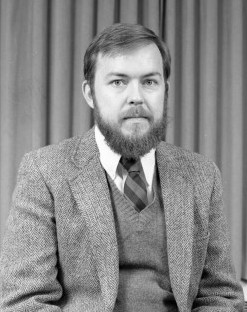 International Education Reform Through Reading and Writing for Critical Thinking, and Phantoms of a Blood-Stained Period: The Complete Civil War Writings of Ambrose Bierce.
Dr. Klooster was twice the recipient of awards through the Fulbright Program sponsored by the U.S. Department of State. He won a Fulbright Scholar award to teach and conduct research at the University of Klagenfurt, Austria, in 2005, and was a Fulbright Fellow at Comenius University in Bratislava, Slovakia, in 1992-93. (photo at left: Klooster during his tenure at DePauw)
In a public lecture at DePauw during the spring semester of 1989, Klooster stated, "All writers should see themselves as radicals who can alter fundamental order."
An obituary is available at the website of the Grand Rapids Press.
Back