Student-Athlete Profile: Nathan Sprenkel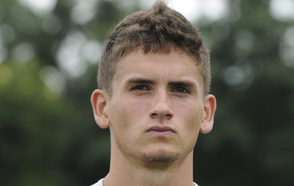 June 8, 2012
Senior goalkeeper Nathan Sprenkel could end up in professional soccer. Or, he could just as easily end up in sports psychology. It's a choice that he'll have to make in the near future – a choice made possible because he did things the hard way.
"It's easy to get caught up in what others think is best for you, but it's important to stay true to yourself," Sprenkel says of balancing athletics and academics at DePauw, rather than pursuing one or the other. "The highway gets you there faster, but in most cases the scenic route is a more rewarding adventure."
That makes sense coming from a guy who lives for the 1-0 nailbiter. A goalkeeper since he was 6 years old, Sprenkel was the defensive backbone of a DePauw men's soccer team that allowed just 19 goals during the 2011 season. He posted a 0.89 goals against average, totaled five shutouts with 84 saves and an .824 saves percentage, helping the team to its first NCAA appearance since 2000.
In November, Sprenkel was named the North Coast Athletic Conference's Defensive Player of the Year – his second consecutive conference defensive honor – and earned a spot on the All-NCAC First Team. He and teammate Sam Meyer were named to the National Soccer Coaches Association of America Division III All-America Second Team joining Brian Jaworski '89 as the only men's soccer All-America selections in DePauw history.
Sprenkel's abilities led him to different kinds of study abroad opportunities than most college students receive. During the past two summers, he trained alongside Serbian SuperLiga club Red Star Belgrade, an internationally respected club that won both the European and Intercontinental Cups in 1991. The club invited him to return to Serbia for a formal trial, one a few professional possibilities he's considering.
So far, he hasn't been alone in the process. Sprenkel says his biggest advocate has been head men's soccer coach Brad Hauter.
"My coach has been a terrific mentor and agent for me, constantly on the phone with teams," Sprenkel says. "Without him, this would have been a much more difficult process."
If the professional opportunities dry up, however, Sprenkel has a backup plan: return to school to pursue a graduate degree in sports psychology. Even after everything he has accomplished in net, it's his degree in psychology that means the most to him.
"It's nice to have received recognition for doing something I love and put a lot of hard work into, but I'm going to be more proud of the diploma that says DePauw University when that's finally in my hands," Sprenkel says. "I don't think I would have said that during my freshman year, but college is a lot of hard work. You really have to earn your degree when it's all said and done. It's something that I can use for years to come while my accolades are collecting dust on the shelf."
Back