Newspaper Profiles Head Baseball Coach Jake Martin
June 8, 2012
"In just his third year as the head baseball coach at DePauw, Jake Martin has his Tigers playing some of the best ball in school history," begins an article published in today's edition of Indiana's Rushville Republican. "Through his efforts and the excellence put forth on the field, Martin has been honored this year as the North Coast Athletic Conference Coach of the Year and the D3baseball.com Mideast Region Coach of the Year. This year's squad won 34 games, second most in school history, and tied a school record of 12 straight wins. The Tigers made their first NCAA Division III appearance since 2001."
Martin tells the newspaper that when he's recruiting student-athletes for DePauw, "We really look for three things. The first and most important factor is the academic strength of the prospect. We need athletes that are strong students so they can handle the academic rigors of DePauw and still excel on the field. The second thing we look for is character. This may be a little more difficult to see initially, but we look for prospects that play the right way, who work hard, and who are leaders amongst their teammates and classmates. We need players who are motivated and willing to put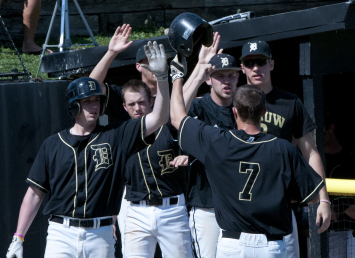 in the work to get better. The final piece that we look for before we recruit a player is their athletic ability. We look for athletic baseball players who can run, throw, hit and play defense. If they cannot do all of those, then we look to see if we can improved one or more of those tools."
You'll find the complete text at the newspaper's website.
You're also invited to visit the official online home of the Tiger baseball team.
Back