Alumni Gather to "Celebrate a DePauw Education" at 2012 Reunion Weekend
June 9, 2012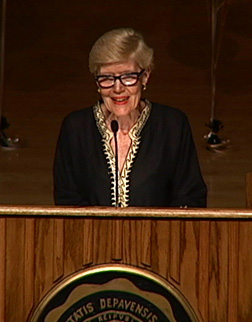 "We celebrate a DePauw education for having taught us to read, write, think critically and establish core values," Barbara E. Smith told fellow members of DePauw University's Class of 1962. Smith -- whose long career included stints at Look magazine, book editing, product marketing and advertising -- delivered the golden anniversary address at today's Alumni Reunion Celebration.
She added, "We thank DePauw for having given us the gifts to meet the challenges of the unprecedented changes we have lived through and we thank DePauw for providing this anniversary opportunity to remember and reconnect."
The event, which took place in the Green Center for the Performing Arts' Kresge Auditorium, brought together several generations of alumni for speeches and updates on the state of the University, was part of DePauw's Alumni Reunion Weekend, which continues through tomorrow morning.
Members of the Class of 1962 presented their alma mater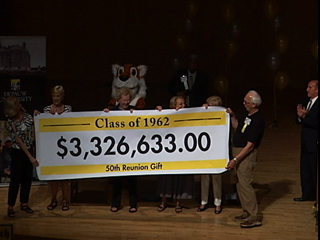 with a 50th reunion gift of $3.326 million. The amount was announced, per tradition, as a large scroll was revealed to the crowd.
Dennis E. Bland, president of the Center for Leadership Development, challenged his Class of 1987 to make "a collective commitment to put some power in your presence. The tremendous opportunity before us today is that, as a class, we can resolve to use our DePauw education to positively impact and empower the lives of others."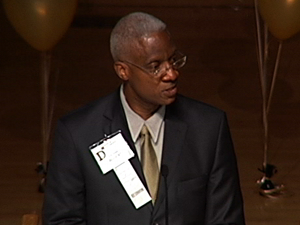 Since 2000, Bland has led an Indianapolis non-profit which is dedicated to empowering African American youth for academic, college and career success. He pointed to a service trip he took to Guatemala as an experience that left "an indelible impression" and changed his life. He told the 25th reunion class, "When you decide to show up the lives of others can will be made better, richer. Your presence can be transformative."
Video of his complete speech is available by clicking the image below:
"We all have a lot to be thankful for," Elisabeth "Bess" Evans told fellow members of the Class of 2007 in her speech at today's assembly. Evans is a policy analyst in the White House Office of Public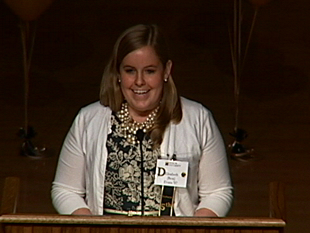 Engagement and White House Office of Science and Technology Policy.
"I can say with certainty, and I hope that I speak for most of the people in this room when I say that DePauw has been my greatest right turn. It has opened so many doors, connected me to lifelong friends and mentors, and has somehow been at the root of every lucky break I've ever had. Furthermore, DePauw gave us all the tools to continue to make right turns after leaving the comfort of this place."
She added, "The DePauw experience taught us all a magic trick -- of juggling life ... It taught us just because we were one thing didn't mean we couldn't explore other options."
See and hear Evans' complete speech below:
As DePauw celebrates its 175th anniversary, President Brian W. Casey noted that the University's history "is the history of us. You all need to know that your personal history lines up with DePauw's; they are not different stories. What happened to each of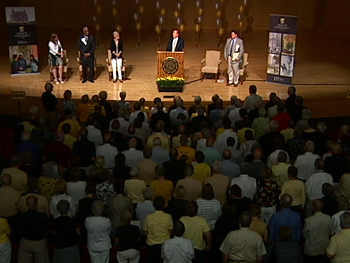 you is as much a part of the historical fabric as an act of the Indiana legislature 175 years ago."
Dr. Casey reminded the audience of a time "when you were 18 years old and you came to a place where you found the doors to the world. You came to a place that changed you. You met a faculty and you were educated. You learned to think, you learned to be confident and you learned to be purposeful. That is DePauw's history."
As he finishes his fourth year leading the University, President Casey stated, "You need to know that DePauw changed me in ways that cannot be stated ... I am a true DePauw student. I am just like you. I came to a small town in Greencastle, Indiana, I saw East College and I found the world."
Alumni Reunion Weekend attendees will gather for class dinners tonight and then dance in the shadow of historic East College.
The weekend's many other activities included a Celebration of Life for Thomas "Tommy" A. Mont Jr., the former football coach and athletic director who passed away in January, and a "Met and Married" vow renewal ceremony for couples who first became acquainted at DePauw.
Back