DePauw Finishes 42nd in Learfield Sports Directors' Cup Standings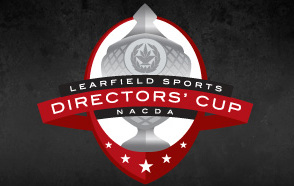 June 12, 2012
Greencastle, Ind. — Bolstered by the women's golf team's second-place finish at the NCAA Championships and the women's tennis squads tie for ninth, DePauw finished 42nd in the 2011-12 Learfield Sports Directors' Cup Division III Final Standings.
The Directors' Cup is a program which began in Division III in 1995-96 and honors institutions maintaining a broad-based program and achieving success in both men's and women's sports.
Totaling 368.5 points, DePauw recorded its 11th top-50 finish in the 17-year history of the program and the eighth straight. The Tigers' 42nd-place showing also marked the 17th time in as many years that DePauw ranked ahead of all other Indiana Division III institutions.
DePauw's women's golf team recorded its third runner-up NCAA finish in program history, while the women's tennis team advanced to the third round this spring.
Making its ninth straight Division III postseason appearance, the women's basketball squad advanced to the second round, while the men's swimming and diving team finished 19th.
DePauw's baseball team appeared in the Division III Championship for the first time since 2001 and finished fourth in the regional and tied for 29th in the nation. Making its first NCAA trip since 2000, the men's soccer team dropped a first-round match, while Catie Baker led the women's swimming and diving team to a tie for 39th.
DePauw teams finished the year with a 214-85-6 record for a .711 winning percentage as the Tigers captured the North Coast Athletic Conference All-Sports Trophy. in their first year of conference competition.
Middlebury College (Vt.) topped the Directors' Cup rankings with 1,040.75 points for its first title, while Washington University-St. Louis was second with 980.25. Williams (Mass.) placed third with 964.5 and Amherst (Mass.) was fourth with 950.75.
Directors' Cup Points Earned During 2011-12 Year
Sport
Finish/Points
Women's Golf
2nd/90
Women's Tennis
tie-9th/64
Women's Basketball
tie-17th/50
Men's Swimming & Diving
19th/55
Baseball
tie-29th/50
Men's Soccer
tie-33rd/25
Women's Swimming & Diving
39th/34.5
DePauw's Directors' Cup Finishes
Year
Final Rank

1995-96
93rd
1996-97
80th
1997-98
tie-66th
1998-99
tie-55th
1999-2000
43rd
2000-01
40th
2001-02
14th
2002-03
86th
2003-04
tie-78th
2004-05
27th
2005-06
13th
2006-07
15th
2007-08
18th
2008-09
39th
2009-10
26th
2010-11
33rd
2011-12
42nd
Back