Matt Ense Named DePauw Women's Swimming and Diving Coach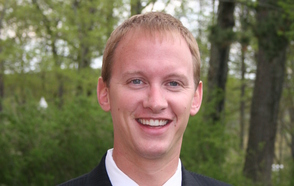 June 20, 2012
Greencastle, Ind. - Matt Ense, assistant swimming and diving coach at Denison University, has been named DePauw's head women's swimming and diving coach. Ense replaces Mary Bretscher who, in April, announced her retirement from coaching.

"We are excited to have Matt join the DePauw athletics department," DePauw's Theodore Katula Director of Athletics and Recreational Sports Stevie Baker-Watson said.

"Throughout his interview, he was engaging and passionate about not only swimming, but the student-athlete experience."

During his four years as an assistant to Denison's Greg Parini, Ense helped the Big Red men's and women's programs to four North Coast Athletic Conference titles apiece. Each team finished in the top three at all four NCAA Division III Championships with the men winning the Division III title in both 2011 and 2012.
In those four years, the women's team broke 32 school records, 25 conference marks and six national records while achieving 178 all-America performances. The men's team established 35 school records, 15 conference marks and 10 on the NCAA level, while totaling 180 all-America performances.
Ense was recently named the 2012 CollegeSwimming.com Rising Assistant Coach of the Year and Parini referred to him as his best assistant coach in his 25 years.
"I feel honored and blessed to have been offered the opportunity to join the DePauw family as head women's swim coach," Ense said.
"I am looking forward to getting to know the current team as well as beginning the process of recruiting the top student-athletes in the country to our program. I have a strong passion for coaching and am ready to continue building on our programs strengths to start the process of bringing a championship back to Greencastle."

Prior to his stint at Denison, Ense worked alongside current University of Michigan head coach Mike Bottom for three months at The Race Club in Key Largo, Fla. During that time, he helped prepare 13 Olympians for the 2008 Olympic Games. The highlight of the training came when Nathan Adrian won a gold medal as part of the world-record 400 free relay.

Ense served as an assistant coach at Division III Union College (N.Y.) for one year and led the men's and women's teams to over 100 best times with nine school records including five NCAA Championships qualifiers.

"The DePauw academic experience, combined with Matt's energy and his talent to develop championship caliber student-athletes, will draw prospective student-athletes to DePauw and energize those who are currently on campus," Baker-Watson said.
A 2002 graduate of Eastern Michigan University, Ense majored in business administration and was a five-time Mid-American Conference champion. The MAC Scholar Athlete also competed at the 2000 U.S. Olympic Trials where he finished ninth in the 5K swim.
"I'd like to thank Mary (Bretscher) for her dedication to DePauw and the women's swimming and diving program." Baker-Watson added.
"My hope is that the program will continue to grow and flourish under Matt's leadership just as it did with Mary as head coach."


Back