Case Nafziger '12 is Semifinalist in National Vocal Competition
June 19, 2012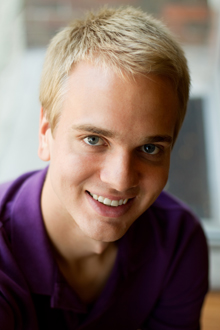 Case M. Nafziger, a May 2012 graduate of DePauw University, is among 18 competitors who will take part in the semifinals of the inaugural National Association of Teachers of Singing (NATS) National Musical Theatre Competition. Regional competitions in Chicago, New York City, and Los Angeles each produced 6 individuals who will meet in the semifinal round June 28th at the NATS Conference in Orlando, Florida.
A double major in vocal performance and English (writing), Nafziger will spend the upcoming academic year in South Korea teaching English as a result of being awarded an English Teaching Assistant grant through the 2012-13 Fulbright U.S. Student Program competition. As an undergradute he won the Fitzpatrick Opera Award, and was elected to both Phi Beta Kappa and Pi Kappa Lambda. He performed leads in both operas and
musicals and won numerous competitions in both classical and musical theatre categories.
He is a student of Professor Caroline B. Smith, Cassel Grubb University Professor, who states, "Case is one of the most multi-talented students I have had the privilege to teach. He cuts across the floodlights as a performer and the voice is powerful yet beautiful. This is a marvelous opportunity for him and quite an achievement to already have gotten this far. I am looking forward to his performance in Orlando."
Back