The Team That Bretscher Built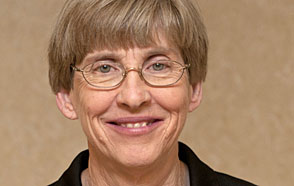 June 19, 2012
Mary M. Bretscher began building a successful women's swimming and diving program from the ground up 37 years ago. Bretscher, who retires from coaching this year, was hired in 1974 to teach – not coach. But during her first year on the faculty, she recruited eight women to be DePauw's first women's swimming team. (See photo below. Top row: Jean Secor, Wendee Roos, Sheryl Roberts, Pat Smith; Bottom row: Shannon Ferrill, Nancy Woodhouse, Eliza Danco, Nancy Wegener, Lynn Mueller; Not pictured: Diane Blomgren, Kim Funk, Coach Mary Murphy Bretscher)
Bretscher earned a bachelor's degree in history from Indiana University and master's degree in physical education with an emphasis in aquatics at Western Michigan University. It was her swimming coach at Western Michigan who connected Bretscher to Mary Lou Miller, who was retiring from DePauw as chair of the women's physical education department. Miller also taught women's physical education classes, which included swimming classes.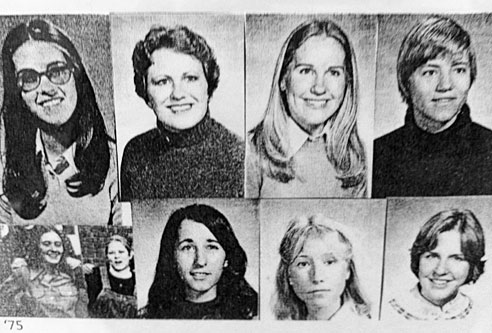 "My coach and Mary Lou knew each other from attending the same conferences, and Mary Lou was aware of the program with the aquatics emphasis at Western Michigan. She called and asked my coach if there were any recent graduates who would be interested in applying for the position."
Bretscher had never dreamed she would have the opportunity to teach at the college level and was excited about the possibility. During the interview, DePauw Athletic Director Tom Mont told Bretscher that someday she could start a women's swimming team. "Someday will be as soon as I get there," she remembers thinking. Bretscher was hired to teach women's physical education courses and recruited her first swimming team that year.
The pool was located in Bowman Memorial Gymnasium, which was built in 1915. When Bretscher arrived at DePauw, the pool was 60 years old, but that wasn't the challenge. It was only 20 yards long with three lanes, which made recruiting nearly impossible. "As a young coach who was all fired up and ready to go, it was really frustrating. On the swimmers' behalf, you have a 20-yard, three lane pool – who in their right mind who wants to swim would choose DePauw?"
Meet results were hit and miss during the first eight years of Bretscher's coaching career, and the team only competed in Invitationals because there weren't enough swimmers to compete in dual meets. "I learned to be flexible with team rules and expectations for practice because the swimmers could easily walk away," she says.
Because of the size of the pool and the older filtration system, Bretscher also learned how to keep water levels up to avoid big waves during practices. In Bowman Gym, anything that went down through the gutter went to the sewer and was gone. "During practice the water level dropped a lot because it was a really narrow pool, and there were huge waves," Bretscher explains.
"There were about 12 drains around the gutter. By trial and error, I learned that if I could plug the drains, the pool level would stay high, and it wouldn't get so wavy. So I tried different things. First, I tried old athletic socks. A couple of them got sucked down the drain, and I thought, 'This isn't good; I can't do that.'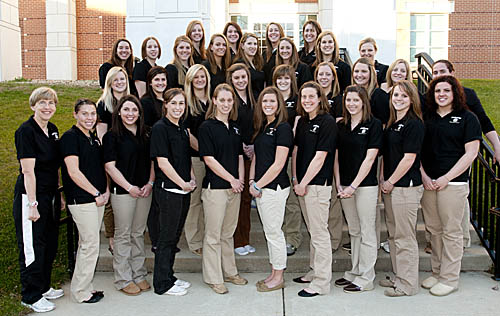 "So, I went with field hockey balls for a while until Coach Judy George noticed I was using them, and she wasn't really happy. Then, I discovered golf balls were the perfect fit and easy to find. However, the only problem with them was the pool would continue to fill with water, and if I ever forgot to unplug it, it would actually overflow onto the deck and out into the hallway. There were numerous times I'd get home, wake up at 2 in the morning and think, 'Oh my gosh, I forgot to unplug the pool.' I'd have to drive back to take out the golf balls."
Once the Lilly Physical Education and Recreation Center was completed in February 1982, the swimming and diving program really took off. "We had a decent facility for recruiting, and people then started looking at DePauw as a place to go to compete," Bretscher says.
Even though Bretscher has retired from coaching, she will continue her role as associate professor of kinesiology, associate athletics director and aquatics director. Bretscher teaches three or four activity classes each semester and says her teaching helped give her perspective as a coach. "I enjoy the classes because I get to know the students. As a coach, it kept reminding me that my athletes are students as well, and though you want to ask a lot of them, you have to remember that they're here for another reason."
Catherine "Catie" Baker '12, three-time Capital One Academic All-American and three-time NCAA Division III all-American in the 100-yard breaststroke worked with Bretscher for four years. "Mary understands the need for balance between being a student and an athlete," Baker, pictured left, says. "She's very good at making sure that we're getting our homework done and understanding that sometimes our practices aren't going to be the best because we're worried about a test or a project.
Baker says another great coaching strength is Bretscher's ability to put the pressure on at the right time. "Mary is really good at reading people; she knows the right motivation for each person on the team," Baker says.
Bretscher responds, "It seemed like the more pressure I put on Catie, the better she did, but I had good swimmers who were just the opposite. I would tell them, 'Go enjoy your race, and have fun with it. No pressure at all.' It's a skill you just learn. Everybody is different. Some people I never figure out. What might work one time won't work another. It's just the way it goes."
Back