Prof. Matt Hertenstein Cited in Pregnancy & Newborn Magazine
June 24, 2012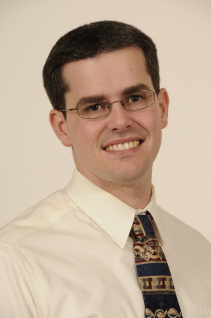 "Almost any daily routine can be an opportunity for your baby to listen and learn from your words and phrases, advises Matt Hertenstein, Ph.D., a researcher with the Touch and Emotion Lab at DePauw University in Greencastle, Indiana," notes the July issue of Pregnancy & Newborn magazine. "When you're traveling in the car, describe the passing scenery. When you're changing a diaper, use a singsong voice to explain each step," writes Jennifer Torres Siders.
Dr. Hertenstein, associate professor of psychology at DePauw, tells the publication, "It's easy, when you're diapering a baby, to go on autopilot. You've changed 100 diapers, and now you're changing number 101. You're not really thinking about it, you're not talking to the baby, something else is on your mind. That's OK. I think that's inevitable sometimes. But babies learn a lot about language during those repeated routines that happen on a daily basis, so try to stay present when you can. Talk to your baby during these routines."
The professor offers other advice in the article, which examines "precious opportunities for nurturing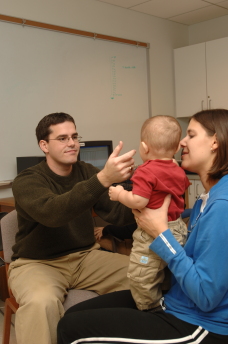 strong bonds and healthy development during those first weeks and months with baby." It's available on newsstands now, or visit the magazine's website.
Matthew J. Hertenstein's research on communicating through touch led to a September 20, 2010 NPR piece and an interview by ABC's Diane Sawyer, as well as a piece in the New York Times. He is the co-editor of The Handbook of Touch: Neuroscience, Behavioral, and Health Perspectives, recently published by Springer.
A study on smiling in yearbook photos and whether subjects became divorced later in life, which was conducted by Professor Hertenstein and DePauw students, received worldwide attention in the spring of 2009. The research was first published in the journal Motivation and Emotion. Coverage began in British media outlets, and spread to United Press International, Yahoo! and a piece which aired April 16, 2009 on NBC's Today. The research was included in the New York Times Magazine's "Ninth Annual Year in Ideas" and was cited by India Today, New Scientist and British Columbia's Province.
Visit Dr. Hertenstein's Emotion Lab online by clicking here.
Source: Pregnancy & Newborn
Back