Broadway's David Cryer '58 Returning to DePauw in November to Star in The Crucible
June 27, 2012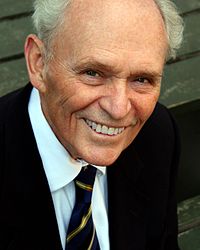 Broadway star and 1958 DePauw University graduate David Cryer will portray the fiery Deputy-Governor in a production of The Crucible at his alma mater in November. Cryer and his wife, choreographer and actress Britt Swanson, will join a cast of students and local actors Larry Sutton (professor emeritus of communication and theatre at the University) and Jack Randall Earles in the Tony Award-winning play by Arthur Miller.
"Britt and I are excited to be a part of this interdisciplinary dig into the sources of mass hysteria in a culture, and, just maybe, we can help figure out ways for all of us to keep our wits about us," says Cryer, a a veteran of more than 13 Broadway shows.
This chilling drama, produced by the department of communication and theatre and DePauw School of Music, will premiere on November 8, 2012, as part of DePauw's 175th anniversary celebration. The Crucible will also serve as the basis for a year-long series of campus-wide events exploring personal integrity.
The production is made possible by a PNC Foundation grant. "Bringing Broadway veterans onto the stage with student, faculty and community actors will deliver a unique and thought-provoking experience for all who attend," says Jeff Kucer, senior vice president of client and community relations for PNC.
The Crucible vividly depicts the terror and helplessness of residents in Salem Massachusetts, in 1692 as they rage against the mounting hysteria of the Salem witch trials. As their placid world erupts with accusations and violence, neighbors betray each other and innocents mount the gallows. The Crucible draws parallels between the hysteria of 1692 and the "witch hunts" of the 1950s during the McCarthy era.
David Cryer portrayed Juan Pern in the original Broadway production of Evita for more than 1,000 performances. From 2006 to 2011, Cryer performed the role of opera manager Firmin in the Broadway production of The Phantom of the Opera, after performing the role for years on national tours.
Cryer also has appeared regularly in film and television, with a starring role on TV's Days of Our Lives and appearances in Law & Order,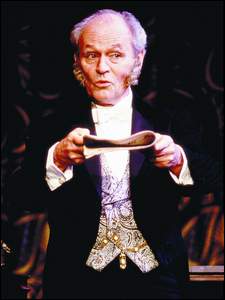 Dallas, Emergency! and Wonder Woman. His big-screen credits include roles in Escape from Alcatraz and American Gigolo.
Britt Swanson has performed in several Broadway productions, including The Desert Song, Shelter and Come Summer.
In The Crucible, Cryer will portray the terrifying Deputy-Governor Danforth, and Swanson will perform the role of Rebecca Nurse.
Tickets will go on sale two weeks before the opening of the production. Details will be revealed at a later date.
In 2009, David Cryer was presented with an honorary Doctor of Arts degree from DePauw. A summary -- including video clips -- may be accessed here.
Back