Research of Prof. Matt Hertenstein Cited in Oklahoma Newspaper
June 26, 2012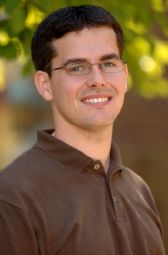 "What's a most surprising way to predict whether your marriage is likely to last?," asks today's edition of the Oklahoman. "Take a look at your spouse's early photographs from youth or college and check out his or her 'smile intensity' and hope to see a beaming smile rather than a faint or ironic one, suggest DePauw University psychologist Matthew Hertenstein et al, as reported by David G. Myers in Psychology: 10th Edition."
The item in the state's largest newspaper adds, "Yet the researchers emphasize that the cause of the correlation is unclear. 'Maybe smiling represents a positive disposition toward life,' Hertenstein offers. 'Or maybe smiling people attract other happier people, and the combination may lead to a greater likelihood of a long-lasting marriage.' Yet this is not to say that early faint smilers will later experience marital misfortune, Myers concludes. 'Happily for them, life is a process of becoming.' "
The item is available to subscribers at the newspaper's website.
The study on smiling in yearbook photos and whether subjects became divorced later in life first received worldwide attention in the spring of 2009. The research was initially published in the journal Motivation and Emotion. Coverage began in British media outlets, and spread to United Press International, Yahoo! and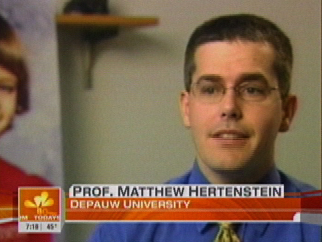 a piece which aired April 16, 2009 on NBC's Today. The research was included in the New York Times Magazine's "Ninth Annual Year in Ideas" and was cited by India Today, New Scientist and British Columbia's Province.
Matthew J. Hertenstein's research on communicating through touch led to a September 20, 2010 NPR piece and an interview by ABC's Diane Sawyer, as well as a piece in the New York Times. He is the co-editor of The Handbook of Touch: Neuroscience, Behavioral, and Health Perspectives, recently published by Springer.
The professor is quoted in the July issue of Pregnancy & Newborn magazine.
Visit Dr. Hertenstein's Emotion Lab online by clicking here.
Back