Federal Government Needs "Robust, Continuing Scrutiny," Opines Lee Hamilton '52
June 28, 2012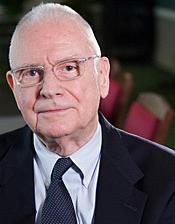 "Americans get angry when they learn of government bureaucrats spending lavishly at a Las Vegas hotel or Secret Service agents consorting with prostitutes. As well they should," opines Lee Hamilton in a newspaper column. In the view of the veteran statesman and 1952 graduate of DePauw University, "The problem with all this isn't how we react to the occasional revelation of bureaucratic malfeasance. It's how we don't act the rest of the time."
According to the Democrat who served 34 years in the U.S. House of Representatives, "Our government is so huge and unwieldy that only robust, continuing scrutiny -- by Congress and from within each department -- will keep it on course. Yet somehow we seem unable to rise to that challenge ... Simply put, our government doesn't work nearly as efficiently and effectively as it could, and Congress and top leaders in the bureaucracy bear direct responsibility."
Hamilton believes the recent scandals involving the GSA and Secret Service are anomalies, but confidence in those agencies and others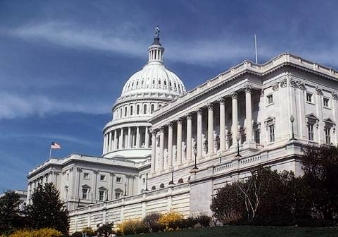 has eroded. He asks, "How do we rebuild Americans' trust that the federal government can get things right?," and recommends four changes, "each demanding that officials take much more seriously the duty of oversight."
He argues, "It's time for concerted attention to the big picture. There's no question where this attention must come from: Congress and the White House."
You'll find the complete op-ed at the website of Washington state's Bonney Lake-Sumner Courier-Herald.
A history major and basketball standout at DePauw, Lee Hamilton co-chaired the 9/11 Commission and Iraq Study Group and is director of the Center on Congress at Indiana University. On March 15, 2011, he returned to DePauw to deliver a Timothy and Sharon Ubben Lecture.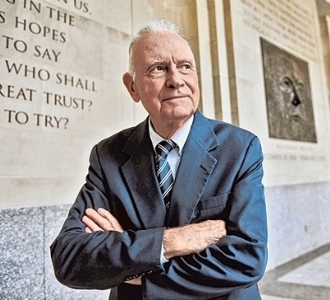 A summary including video clips can be accessed here.
Newsweek has called Hamilton "Mr. Integrity," while the New York Times' David Brooks opined of Hamilton, "The country is hungering for leaders like him: open-minded, unassuming centrists who are interested in government more than politics."
In a 2007 interview, Hamilton stated, "I had an undergraduate experience at DePauw University that certainly opened my eyes to a lot of possibilities." Learn more in this story.
Back