Hugh Finson '69 is Candidate for Illinois Circuit Court Seat
July 9, 2012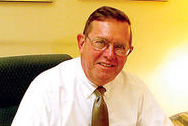 William H. "Hugh" Finson, an attorney and 1969 graduate of DePauw University, is among 8 applicants for a seat on the Illinois Circuit Court. The seat is currently filled by Sixth Circuit Judge John P. Shonkwiler, who is retiring at the end of this month. The Illinois Supreme Court will choose the replacement. (photo by Steve Hoffman)
"The applicant who is appointed to replace Shonkwiler will serve the remainder of his six-year term, which expires Dec. 1, 2014," reports Huey Freeman in the Decatur Herald-Review.
Finson, an attorney in Monticello, Illinois, was a history major and Rector Scholar at DePauw and earned a law degree from the University of Illinois.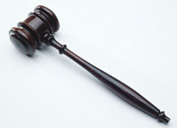 "I have a good sense of fairness," he tells the newspaper. "I've practiced in criminal cases, traffic, family cases including divorce, orders of protection, parentage and adoptions; probate, including decedent estates and guardianships, and real estate. So I have experience in the bulk of the kinds of cases that come up in court here."
Read more here.
Back