Four Tigers Earn All-America Honors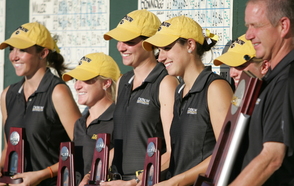 May 20, 2012
Greencastle, Ind. - While leading DePauw to a second-place finish at the NCAA Division III Championships, four Tigers earned all-America honors from the National Golf Coaches Association.
Seniors Taylor Beaty (Decatur, Ind./DeKalb) and Kelly Gaughan (Cincinnati, Ohio/McAuley) as well as sophomore Paige Gooch (Fort Mitchell, Ky./Beechwood) were named to the second team, while sophomore Kelsey Smith (Indianapolis, Ind./Hamilton Southeastern). was an honorable mention selection.
Beaty finished the season with a 79.67 stroke average and posted eight top 10 finishes. Her low round of 73 came in the second round of the NCAA Championships where she placed in a tie for 14th. Beaty topped the field with a two-round 152 at the Illinois Wesleyan Spring Fling. She was a first team all-America honoree last year.
Gaughan averaged 79.44 strokes with seven top 10 performances and a team-best six top five finishes. She shot a one-over, 72 at The Pat Clouse Invitational and won the first North Coast Athletic Conference Championship event with a two-round 157.
Gooch averaged 79.60 strokes with eight top 10 finishes. She posted the team's only even-par round with a 72 at the O'Brien National Invitational and won the second NCAC Championship event of the year with a two-round 156. Gooch earned second team all-America honors last year.
Smith posted the team's top stroke average at 79.43 with seven top 10s. Her best round of one-over, 73, came in the final round of the NCAA Championships where she finished in a tie for ninth. Smith shared the top spot at the University of St. Francis Cougar Spring Invitational after shooting a two-round 152.
Sophomore Abby Dickey (Elk Grove Village, Ill./St. Viator) joined the four on the 10-player all-Great Lakes Region team. Dickey posted an 80.70 stroke average including a best round of 74 at the NCAA Preview Tournament. Along with seven top 10 finishes, Dickey won the Allegheny Invitational with a 77.
DePauw's second-place finish was its third at the Division III Championships. The Tigers finished just six shots behind 13-time defending Division III champion Methodist. DePauw has appeared in 11 straight national tournaments and finished in the top five nine times.
Back