Newspaper Previews Indiana Private College Week
July 16, 2012
"In essence, our campus is always available to visitors and we encourage people to come to DePauw whenever it fits into their schedules," Ken Owen, the University's executive director of media relations, tells Greencastle's Banner-Graphic. Today's edition of the newspaper offers a preview of Indiana Private College Week, which takes place July 23-27 and involves DePauw University and the states' 30 other private, nonprofit colleges and universities.
"We'll be ready to welcome those who choose to visit DePauw during Private College Week, just as we do our other visitors throughout the year," adds Owen. "But what makes this week important is it underscores facts that many aren't aware of -- alumni of private liberal arts colleges report having better experiences as undergraduates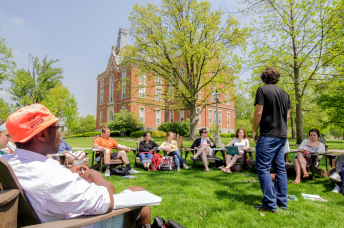 and more success post-graduation than those who attend large state school."
Owen, a 1982 graduate of DePauw, stresses, "Students at private colleges learn from professors, not teaching assistants, and live on vibrant residential campuses where they develop lifelong friendships."
Read more at the newspaper's website and in this previous story.
Founded in 1837 as Indiana Asbury, DePauw is a private, selective, coeducational, residential, undergraduate College of Liberal Arts and School of Music with an enrollment of 2,394.
In May, a Washington Post article reported that students at DePauw study harder than most of their peers at other colleges. The National Survey for Student Engagement (NSSE) finds that the academic challenges provided by DePauw University are within the top 10% of colleges in the nation and that a large number of DePauw seniors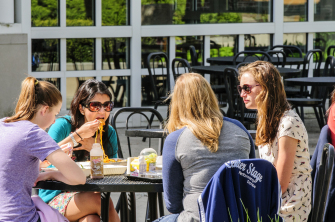 report their educational experiences have been enriching. The report also finds that DePauw seniors score significantly higher than both peer institutions and all schools in the categories "Active and Collaborative Learning" and that first-year students at DePauw encounter a higher "Level of Academic Challenge" than found on other campuses.
Graduates of the nation's top liberal arts colleges, including DePauw University, say they learned more in college than graduates of any other types of colleges, including their preparation for their first job and careers, according to a national study commissioned by the Annapolis Group, a consortium of America's leading liberal arts institutions, including DePauw.
Back